WND's Cashill: George Zimmerman Is 'Mockingbird's' Tom Robinson
Topic: WorldNetDaily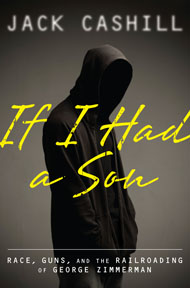 Leave it to George Zimmerman fanboy Jack Cashill to perpetuate Zimmerman's sense of victimhood.
In his March 25 WorldNetDaily column, Cashill praises the "unvarnished 13-minute interview with his attorney" Zimmerman released as a video (Cashill didn't note that the attorney who did the interview was his divorce attorney). Cashill didn't mention Zimmerman sort of likening himself to Anne Frank in that he claims to "still believe that people are truly good at heart" -- an odd thing to say for a man who's been arrested twice on domestic violence charges -- but that may be because Cashill thinks Zimmerman is really Tom Robinson, the black man falsely accused of raping a white girl in "To Kill A Mockingbird":
In their own minds, those on the left still see themselves as Atticus Finch standing outside the jailhouse, shotgun reluctantly in hand, protecting the "mockingbird" within.

Zimmerman knows better. He was that mockingbird. When he looked out and saw that mob calling for his head, he saw not the racists of old, but the liberals he used to think were his friends.
Of course, unlike Robinson, Zimmerman indisputably killed a person. But that's OK with Cashill because he likes it when people he doesn't like -- gays, blacks, abortion doctors -- are killed.
Posted by Terry K. at 11:58 AM EDT