WND Fearmongers About Gays Donating Blood
Topic: WorldNetDaily
Bob Unruh's Dec. 2 WorldNetDaily article on a proposal to allow gays to donate blood is your usual festival of one-sided Unruh reporting, citing anti-gay activists and making no mention of the fact that blood can now be easily tested
to detect both the antigen and antibodies for HIV.
But WND's promotion for the article goes where Unruh didn't when it comes to raw fearmongering. The front-page carousel promo used the headline "Will getting blood kill you next time?"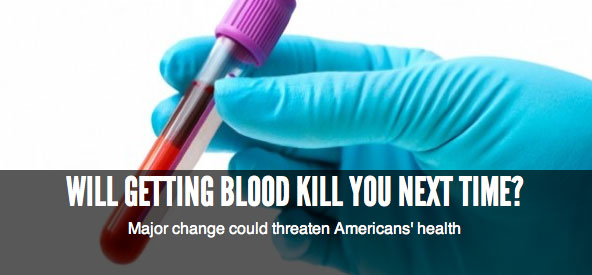 And the article's URL indicates that the article originally had the headline "Bloody hell: Feds to let 'gays' donate blood." (WND always puts the word "gay" in needless scare quotes, and we assume it did so here as well.)
Of course, both
Unruh
and
WND
have a clear antipathy toward gays, so it's no surprise they would fearmonger about this policy change.
Posted by Terry K. at 1:14 PM EST