MRC Still Clings To 'Climategate' Myths
Topic: Media Research Center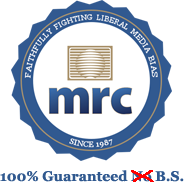 A Nov. 17 Media Research Center post by Joseph Rossell tries to revive an old conspiracy:
President Barack Obama and Chinese President Xi Jinping's deal to dramatically reduce greenhouse gas emissions in both countries couldn't have come at a more ironic time.

Their Nov. 11, announcement came just days before the fifth anniversary of ClimateGate, which cast a pall over the credibility of major climate research institutions. On Nov. 17, 2009, it was discovered that hundreds of emails and files were either hacked or leaked from the Climatic Research Unit (CRU) of the University of East Anglia (UEA). According to Roger Pielke, Jr., months before ClimateGate, CRU admitted it did not have the raw data its climate science is based on.
Note how Rossell blithely notes the "Climategate" documents were "either hacked or leaked." By contrast, the MRC had a fit when documents detailing the conservative Heartland Institute's strategy to promote global warming denialism were released, screaming that they were "falsely obtained" in a "vicious" and "sleazy attack" by the head of a "George Soros-funded" group. Rossell expresses no concern that the "Climategate" emails were "falsely obtained" as part of a "vicious" attack against climate scientists because he agrees with such attacks.
Rossell then cherry-picks 10 random, out-of-context statements from the "Climategate" emails to portray them as killing the credibility of climate science. But Rossell ignores the entirety of climate science study, which affirms the consensus that global warming exists. For example, PolitiFact states:
So, to say that the CRU e-mails debunk the science supporting climate change leaves out the important point that CRU isn't the only organization looking at the issue. Indeed, there are reams of data that show temperatures are increasing and that greater concentrations of carbon dioxide and other greenhouse gases are largely to blame.
An Associated Press review of the emails show that they "don't support claims that the science of global warming was faked" and "don't undercut the vast body of evidence showing the world is warming because of man-made greenhouse gas emissions."
But who needs facts when Rossell can simply regurgitate a discredited political narrative?
Posted by Terry K. at 11:09 AM EST