MRC Intern Denounces Opera She's Likely Never Seen
Topic: Media Research Center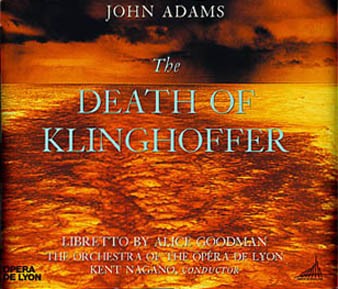 Media Research Center intern Tianna DiMartino devotes a Sept. 22 item to ranting about Metropolitan Opera's upcomingh production of the John Adams opera "The Death of Klinghoffer," which she denounces as "disgusting, vulgar, and anti-Semitic." DiMartino sneers at the composer's defense of his opera:
Adams argued that he didn't write The Death of Klinghoffer to be controversial or provocative and was "appalled at how hot some of the response was" to the opera. He felt he was trying to show the humanity in the civilians and Jewish family on board as well as the terrorists and wasn't picking sides.

"For all the brutality and moral wrong they," the terrorists, "perpetrated in killing this man they're still human beings and have to have had reasons for doing so," Adams claimed. Seriously? What next? An opera about the 9/11 terrorist attacks and an effort to humanize those terrorists? A tacit justification of their motives?
DiMartino offers no evidence that she has ever seen the opera (or any opera, really) or examined its libretto beyond cherry-picking the most controversial segments out of context by regurgitating the claims of her fellow critics.
As such, DiMartino's attack on Adams botches the truth by ignoring the fact that he didn't write the libretto; Adams wrote music to Alice Goodman's libretto.
In fact, "The Death of Klinghoffer" is a much more emotionally complex production that DiMartino would have you think. Writer Robert Fink examined the issue of whether the opera was anti-Semitic in a 2005 monograph in the Cambridge Opera Journal. He states:
In summary: to call The Death of Klinghoffer anti-Semitic is to claim that it offends because it is an ideologically driven distortion of American Jewish identity, a caricature, 'agit-prop', as Rothstein would have it. But looking closely at the opera (and the controversial Rumor scene) in historical context, it becomes clear that theportrayal of American Jews was offensive and upsetting to New York Jewish audiences because it reflected perfectly their worst nightmares about their own conflicted identity as Jews back to them. Beset by Jewish-Gentile hyper-assimilation, the collapse of American–Israeli Jewish dialogue, and the incineration of Black–Jewish multicultural solidarity, American secular Judaism simply did not function anymore. With Klinghoffer, we are dealing not with an anti-Semitic caricature from outside, but a devastatingly accurate insider's reflection of what Irving Howe sensed in 1989 as anunprecedented 'deepening crisis in Jewish identity'. Two difficult years later, watching Klinghoffer laid the crisis bare for its New York audience; it was, evidently, akin to standing culturally naked in front of an unflattering music-dramatic mirror.

American Jews did not like what they saw.
Fink added: "This opera does not romanticise terror. It tries for something much more difficult, so difficult that its failure has been splattered for decades over the pages of the American press. The Death of Klinghoffer attempts to counterpoise toterror's deadly glamour the life-affirming virtues of the ordinary, of the decent man, of small things."
Such examinations of the opera have been around for years -- the opera was first staged in 1991 -- bit DiMartino showed no interest in doing even the most cursory research about it, choosing instead to transcribe what critics were feeding her and adding her own uninformed outrage on top of it.
Apparently, that's all it takes to write for the MRC these days.
Posted by Terry K. at 7:46 PM EDT