WND's Zahn Really, Really Wants You To See 'The Identical'
Topic: WorldNetDaily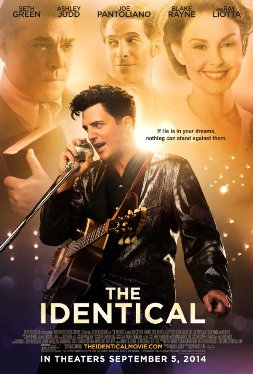 WorldNetDaily's resident movie guy, Drew Zahn -- best known for panning films that fail to comport with his right-wing Christian worldview -- has found a film that aligns with his worldview, and he's berating his fellow Christians for not seeing.
In a Sept. 1 article, Zahn touts an "exclusive preview" of the film "The Identical," declaring that "In 1967, Israel was miraculously saved from warring Arab nations on all sides, and this weekend in Hollywood's only widely released debut movie, well-known actor Ray Liotta will proclaim that Israel's fate has 'everything' to do with Christians in America." Which is an odd thing to focus on given that the actual film's plot has to do with twins separated at birth, one of whom becomes a rock star and the other is a preacher's son who is also lured by rock n' roll.
But when the film tanked at the box office on its opening weekend -- it came in 12th in revenue despite being the widest-opening new film that weekend -- Zahn used his Sept. 7 review of the flim to berate his fellow right-wing Christians for not going to see it:
The moviemakers spent tens of millions marketing this film – a budget most Christian movies could only dream about – through churches, Christian radio and other key outlets. The movie stars big Hollywood names like Ashley Judd, Seth Green and Ray Liotta. It features a stunning soundtrack put together by Motown legends. It also delivers a profoundly Christian message in the context of a story that you don't have to be a pew-sitter to love.

In other words, it's just the kind of film that could take Christ outside the church walls. All it needs to succeed and to see more films like it made, to see the candle become a blaze in our culture, is for Christians to go see it. That's it.

And yet, theater receipts now reveal, "The Identical" has become one of the biggest box office busts of 2014. Despite being the only widely released new film of the week, despite showing in nearly 2,000 theaters (or roughly 10 times the number of locations of a typical, independent Christian film), "The Identical" couldn't even crack the Top 10 movies of the week.

The church simply stayed home and left its brothers and sisters in the arts out to dry … again.

[...]

Audiences of all faiths could enjoy "The Identical," learn from it and have the opportunity to see how Christ, specifically, brings strength and purpose to life.

They could, anyway, if only someone would go and actually see it. And more such opportunities could also be made, more candles shining in the darkness, if only the bushel-dwellers would take seriously their opportunity to make a real impact on the culture around them.

Hollywood, right now, is practically handing the megaphone over to the church, but the church must come out of its doors and take the opportunity. There are filmmakers who are stepping up the challenge; but in order to make this work, the ticket buyers need to step up, too.
Zahn went to bat again for "The Identical" in a Sept. 12 article by touting the filmmakers' last desperate gambit to promote the film: streaming the first 15 minutes of the film online. Zahn groused:
Many Christian ticket buyers, it seems, mistakenly concluded "The Identical" – which stars big Hollywood names like Ashley Judd and Ray Liotta and includes 23 original songs created by Motown music legends – was "just an Elvis movie" and didn't give the production the same boost at the box office they gave other faith films like "Son of God" and "God's Not Dead."

Without support from Christian moviegoers and saddled with negative reviews from secular critics, "The Identical" – despite appearing in nearly 2,000 theaters nationwide – flopped at the box office.
Zahn also complained that "while popular movie-critic sites like RottenTomatoes.com panned 'The Identical,' many Christian reviewers found reasons to praise it."
Zahn's willingness to be an unpaid (as far as we know) hype man for "The Identical" didn't help: The film took in a mere $390,000 over the weekend, a plunge of 75 percent from its opening weekend.
Posted by Terry K. at 1:16 PM EDT