WND's Farah Still Can't Take Criticism Well, Lies To Defend Himself
Topic: WorldNetDaily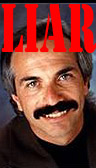 Joseph Farah has a notoriously thin skin when it comes to criticism of himself and WorldNetDaily, and it was on full display yet again in his Sept. 4 WND column.
Farah was lashing out at John Avlon's profile of WND in a excerpt from his updated book "Wingnuts" published at Salon. As usual, Farah belittled his critic, noting the low Amazon ranking of Avlon's book and mocking the "deranged" headline on the excerpt, adding, "Remind me to give you a lesson in headline-writing someday." Of course, writers rarely get to write the final headlines for their articles; that's what editors are for -- even at an organization like WND.
But in his ranting quest to correct the alleged "errors" in Avlon's piece, Farah spreads his own lies.
He rants: "Yes, I did serve as the editor-in-chief of the Sacramento Union, and I did persuade Rush Limbaugh to write a daily column for the paper. But, as I told you in the perfunctory interview you conducted with me (Were you listening, John?), circulation did not decrease, it increased dramatically as the paper served as an alternative voice to the McClatchy flagship Sacramento Bee." In fact, as we pointed out when Farah tried to push the same lie in a rant against us, the Oct. 17, 1991, Los Angeles Times article on Farah's resignation from the Union (accessed via Nexis) reported: "The paper, which reported a circulation of 72,000 before [Farah's] appointment as editor in July, 1990, reported a circulation of 52,000 last week." We challenged Farah to back up his claim that circulation increased under his stewardship; to date, he has provided none.
Farah went on to rant:
You claim I investigated "a conspiracy theory that longtime Clinton aide Vince Foster had not committed suicide but had been murdered with the White House's knowledge – a theory determined to be false by three official reports." Complete bunk. I have never said or written anything remotely along these lines. If you are referring to the work of Christopher Ruddy, now the owner of Newsmax.com, a direct competitor of WND, yes, my organization did sponsor his investigation into the strange death of Vincent Foster, but neither he nor I nor anyone else associated with me ever suggested he was murdered – with or without the White House's knowledge. And the fact that three official law-enforcement probes were necessary to address the questions raised by the reporting is a testament to the seriousness of those questions – many of which have never been answered.
But if you reject the idea that Foster committed suicide -- which Farah most certainly does -- the only other logical explanation is murder. Pretending otherwise by refusing to say the word "murder" as it relates to Foster doesn't make it any less true.
Farah writes:
You claim WND has repeatedly published a thoroughly discredited drifter's claim that "he took cocaine in 1999 with the then Illinois legislator [Obama] and participated in homosexual acts" with him. Yes we did report that claim – once – under the headline labeling it a "sleaze charge" and only after Larry Sinclair filed a high-profile civil rights lawsuit against Barack Obama's inner circle. (I guess your standards of journalism would not permit the reporting of such a lawsuit.)
Farah is lying here too. As we documented, WND published three articles -- not one -- highlighting Sinclair's lawsuit at the time it was filed, and Farah wrote a column defending publication of Sinclair's claims. Farah boasted that Sinclair's claims "has been reported in only one news venue – WND." None of these articles gave any indication that WND bothered to investigate the veracity of Sinclair's charges.
By contrast, WND did not publish anything about the press conference in which Sinclair proved himself beyond a doubt to be the "thoroughly discredited drifter" that Farah apparently now concedes he is. Instead, Jerome Corsi took up Sinclair's cause, publishing numerous WND articles uncritically rehashing Sinclair's claims.
Farah was not done huffing:
You write: "But the real growth industry for WorldNetDaily in 2009 was the enthusiastic advocacy of Birther claims that Obama was not born in the United States and is therefore ineligible to be president." Let me straighten you out again. I know this must be complicated for you. It's called journalism. WND has never made the assertion that Obama was not born in the U.S. What we did, through countless investigative reports, was demonstrate that Obama had steadfastly refused to release his birth certificate as his opponent in the 2008 election did when his "natural born citizen" status was questioned – by Democrats, the New York Times, USA Today and many other mainstream news outlets. This after Obama had for years claimed to be from Kenya – when it was advantageous for him to do so. By the way, the only law-enforcement investigation to examine the document Obama was ultimately forced to release through our investigative efforts deemed it to be a bad forgery.
Farah doesn't mention that WND has studiously avoided reporting anything that contradicts its birther conspiracies, nor has it acknowledged that a former member of that "only law-enforcement investigation to examine the document Obama was ultimately forced to release through our investigative efforts" -- that is, the "Cold Case Posse" probe run by Mike Zullo and authorized by Joe Arpaio -- has exposed the utter sham that investigation was, admitting that "The Hawaii Verification of Birth, certifies that Obama was born in Hawaii and he is therefore a US citizen."
Perhaps Farah can take a break from sending us cease-and-desist letters on the down-low and respond to the facts I've laid out here. That is, if he has the guts.
Posted by Terry K. at 1:11 PM EDT