WND's Massie Still Hates Black People
Topic: WorldNetDaily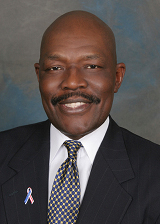 WorldNetDaily columnist Mychal Massie doesn't particularly like black people, despite the fact that he is one himself. That animus comes through atain in his Aug. 18 WND column:
It is long past time to speak the truth. The blacks rioting and looting in Ferguson, Missouri, are not oppressed, frustrated people. They are a pernicious and hardly secretive camorra. The rioters and looters didn't steal food, or medicine for sick children; they stole televisions, clothing, DVDs, CDs, jewelry, cigarettes and the like. There exists no acceptable excuse for their behavior. Ergo, there remains only the truth: They are an ungodly, stiff-necked lot given over to rage and evil behavior.

Even more egregious is the fact that they are encouraged and given emotional sanctuary for their condemnable actions by those who benefit from their animus. These blacks, those like them and those who sympathize with them, are equivalent to toxic allergens making blacks allergic to civilized behavior.

Suppose the Ku Klux Klan went on a murderous rampage burning and destroying cities every time blacks murdered, raped, or viciously assaulted an innocent white person. Speaking of the KKK, I say it is time for blacks to be treated as the KKK have been, i.e., let rioters, their families and those who support/encourage their malevolent and destructive behavior be held financially responsible for the damage they inflict.
Then, for some reason, Massie starts ranting about abortion:
Approximately 1,876 unborn black children are murdered by abortion every day. How many of those 1,876 black children are murdered at the Planned Parenthood abortion mill located in St. Louis? Ergo, who is really feasting on the blood of innocent blacks?

When blacks aren't killing one another they are being murdered by abortionists. And all Obama, Holder, Jackson et al. can find to condemn is that a black thug was shot and killed by police. Why weren't they upset about the 80 people (nearly all black) who were shot, 12 of whom died, in Chicago the Fourth of July weekend alone? The black population in America has been decreased by well over 25 percent. Black women may be only 13 percent of the child-bearing population, but they are responsible for over 35 percent of the unborn children murdered by abortion.

Blacks are being encouraged to riot about the wrong issues. They riot over a "gangsta' wannabe" but express no outrage whatsoever as their population is being systematically eliminated by abortionists with the approval and applause of Obama.
You'd think that Massie would approve of abortion since they apparently get rid of the kind of black people he despises so much.
Posted by Terry K. at 12:21 AM EDT