Bozell & Graham: Redskins Losing Trademark Is Obama's Fault, Somehow
Topic: Media Research Center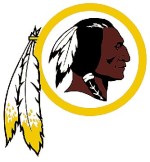 Brent Bozell and Tim Graham use their June 20 column to rant about the U.S. Patent and Trademark Office withdrawing trademark protection for the Washington Redskins, naturally blaming "the left, which has removed every moral objection to traditional understandings of profanity, continues its own crusade to ban words that violate their sensitivities on race, gender and sexual preference."
Yet it's President Obama's fault somehow, too. Bozell andGraham write that "A quick review of the PTO's record shows this was an overtly political decision — surely aimed at or requested by the White House." But they offer no evidence that the Obama White House was ever involved in the process. Still they conclude:
But say the word "Redskins," and the left collectively faints. In the case of the "R-word," a majority of the community has never been offended. Even a majority of the Indians have never been offended. But the left's crusade, using Obama's PTO, continues.
By reflexively blaming Obama, Bozell and Graham ignore the fact that the dispute over the Redskins trademark has been going on for years. As Sports Illustrated points out, the PTO first cancelled the trademark in 1999, but the decision was overturned by a federal court on appeal in 2003. Both of these events occurred before Obama was elected U.S. senator, let alone president.
Perhaps if Bozell and Graham didn't engage in such absurdly reflexive Obama-bashing, the Media Research Center might be taken more seriously.
Posted by Terry K. at 3:15 PM EDT