Seton Motley Misleads About Net Neutrality Again
Topic: NewsBusters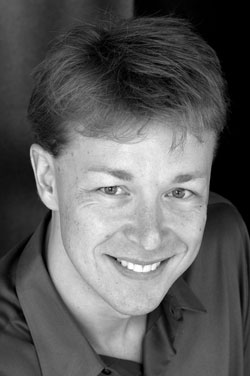 Seton Motley has long misled about net neutrality, and he does so again in a barely coherent June 16 NewsBusters rant, in which he targets HBO's John Oliver for explaining the subject in a manner of which Motley does not approve:
Oliver doesn't explain Net Neutrality - he gets it fundamentally wrong.

Oliver's segment was start-to-finish Leftist rote. Unwittingly I'm guessing, he's carrying the water of the Internet's bandwidth hogs. Particularly video-streaming companies like Netflix, Google (who owns YouTube) - and, perhaps, movie channel HBO? - who want the government to mandate that they get a free ride for being bandwidth hogs.

And Oliver omits a panoply of contravening information.

Oliver begins his piece by incorrectly asserting that huge-bandwidth-using-companies paying for the bandwidth they use is the creation of an Internet "fast lane." Thus leaving the rest of us consigned to the "slow lane."

Only there will be no such thing. What Oliver and Company report as brand new "fast lanes"- are in fact regular lane deals that have existed as long as has the Internet. It is all a part of what is called peering.
The words "fast lane" and "slow lane" are the total extent to which Motley quotes Oliver, which poses a problem in Motley trying to disprove Oliver -- and a sign that Motley will be building straw men instead of engaging in a actual discussion.
Motley also undermines himself by including in one of his links showing how "pseudo-news pseudo-consumers were thrilled" a substantive debunking of the point he's trying to make, a Slate piece by Marvin Ammori.
Motley takes particular umbrage at Netflix over the peering, or interconnection, issue:
Netflix for years had no problem paying middle men for their monster bandwidth use - companies like Level 3 and Cogent. Who are Internet Service Providers (ISPs) - just for these guys rather than us.

Then it occurred to Netflix that it made more business sense to cut out these middle men - and deal directly with our ISPs.

[...]

Except Netflix suddenly, disingenuously claimed these very ordinary deals were Net Neutrality violations.

[...]

But again, Netflix has always paid someone for their bandwidth hoggishness (as well they should). The only thing new here is their trying to get the government to mandate they no longer have to.
Ammori debunks this idea, responding to a critic named Jon Healey who had made claims similar to Motley's:
Interconnection is a term referring to where and how Comcast's network connects to the network carrying Netflix's traffic. This connection is necessary for Comcast users to watch Netflix. Netflix claims that Comcast (and apparently Verizon and others) deliberately congest these connections to force Netflix and other companies to pay Comcast (and Verizon). John Oliver suggested—based on these facts of Netflix's speeds on different networks—that Comcast and others would have the incentive to make websites work poorly to force them to pay.

But you don't have to know what interconnection is to realize Healey is being misleading. If you watch the video, you'll notice Oliver never says the Comcast-Netflix dispute is a network neutrality issue. But, if he had, he would have been in good company. As a matter of fact, not spin, the net neutrality proposal actually includes questions on interconnection (and other things Wheeler opposes, like Title II, protecting mobile users, and banning discrimination). That suggests that interconnection has at least something, not "nothing," to do with net neutrality. Plus, as I explain here, the net neutrality legal orders have repeatedly rested on interconnection concerns from 2005 through 2010, including for their jurisdictional authority in key decisions. Oh, and the lawyers at Netflix, Level 3, Cogent, and ... the major Internet companies ... all believe that the interconnection is part of this debate and have filed legal arguments about it in the FCC's net neutrality docket. So clearly interconnection has something to do with net neutrality. Healey is just repeating the FCC chairman's talking points that interconnection is not related to net neutrality.
Ammori notes that "John Oliver joined the huge chorus that consists of just about everyone except the phone and cable giants, politicians opposed to anything Obama supports, and the FCC chairman." Add Seton Motley to that list.
Posted by Terry K. at 10:07 AM EDT