MRC Desperately Tries to Smear Warren Buffett By Tangentally Tying Him to Gosnell
Topic: WorldNetDaily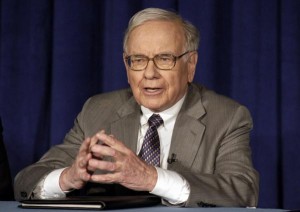 The Media Research Center still can't get the "research" part of its name down.
The latest example of the MRC's history of shoddy research is a May 13 report by Mike Ciandella and Katie Yoder attacking Warren Buffett for funding "abortion groups":
They say the key to successful investing is diversification. But Berkshire Hathaway Chairman & CEO Warren Buffett, the billionaire investor known as the "Oracle of Omaha," is a one-issue man -- and that issue is abortion.

Through the foundation he financed with more than $3 billion of his own money, Buffett donated $1,230,585,161 to abortion groups worldwide from 2001 to 2012. These groups, including Planned Parenthood, NARAL and the Population Council, either campaign for pro-abortion legislation, perform abortions themselves, or helped develop the controversial abortion drug RU-486. Buffett gave an additional $21 million to these groups between 1989 and 1996. (Tax forms between 1997 and 2000 are not available.)

So the $1.2 billion that Buffett gave to these organizations is enough to pay for the abortions of more than 2.7 million babies in the womb. Those figures come from the pro-abortion Guttmacher Institute, which says the average amount paid for a surgical abortion in the United States is $451 for the first trimester. That accounts for the majority of abortions.

To put that in perspective, Warren Buffett donated enough money to abortion groups to perform as many abortions as there are people in the entire city of Chicago.
Note how wildly overstated Ciandella and Yoder's claims are. "Abortion groups" is a laughably overbroad assertion, demonstrating the MRC's intent for this to be a political attack instead of objective research. After all, only 3 percent of Planned Parenthood's services are abortion services.
The "perspective" that Buffett donated enough money to abort "the entire city of Chicago" also has no business in a supposed "research" document.
Further, for all their fulminating about "abortion groups," Ciandella and Yoder provide no evidence whatsoever that Buffett foundation money directly paid for any abortions.
But they're not done. Ciandella and Yoder's next step is to smear Buffett by trying to tie him to rogue abortion doctor Kermit Gosnell:
One year ago, on May 13, 2013, the infamous abortionist Kermit Gosnell was convicted of three counts of murder and one count of manslaughter in a case the major media tried their best to ignore. Another of the groups Buffett funded inspected Gosnell's clinic -- subsequently described in court documents as a "house of horror" -- and didn't report conditions at the "worst abortion clinic" the inspector had ever seen to Pennsylvania authorities.
Again, Ciandella and Yoder provide no evidence that Buffett has any personal link whatsoever to Gosnell -- it's just a disgusting smear.
Further, the grand jury report on the Gosnell case placed much more blame on state health officials for years of failing to act on complaints about Gosnell's practice -- they "were repeatedly confronted with evidence about Gosnell, and repeatedly chose to do nothing" -- than the NAF, which had inspected his clinic about a year before Gosnell was arrested in response to him applying to become an NAF member.
Nevertheless, the MRC's Dan Gainor wrote a FoxNews.com op-ed that even more explicitly tried to link Buffett to Gosnell:
May 13, 2014, marks one year since Philadelphia abortion Dr. Kermit Gosnell was convicted of first-degree murder "in the deaths of three babies who were delivered alive and then killed with scissors at his grimy, 'house of horrors' clinic," according to the Associated Press. Gosnell instantly became the face of abortion in the prolife community.

But there's another, more recognizable face pushing abortion in the U.S. – liberal billionaire Warren Buffett. The so-called "Oracle of Omaha" has donated more than $1.2 billion to abortion organizations from 2001 to 2012.

That's equal to the cost of roughly 2.7 million first-trimester abortions – more than twice the number of abortions that occur in an entire year in the United States. Unlike Gosnell, however, everything Buffett has done has been entirely legal. But Buffett does share something else in common with the abortionist. Both their stories have been largely unreported.
Like his underlings, Gainor does not prove that Buffett is directly "pushing abortion."
The most damning evidence of the MRC's partisan intent, though, is that Ciandella and Yoder devote 11 paragraphs of it to how "pro-life organizations expressed outrage at the amount of Buffett's support dedicated to the demise of babies in the womb." Ciandella and Yoder claim they "reached out to both The Susan Thompson Buffett Foundation and Berkshire Hathaway," but got no response.
That's what passes for "research" at the MRC. It has always been thus.
Posted by Terry K. at 11:20 PM EDT
Updated: Wednesday, May 14, 2014 11:22 PM EDT