WND Perpetuates Lie That Donald Sterling Is A Democrat
Topic: WorldNetDaily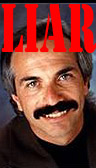 WorldNetDaily was quick to hop on the guilt-by-association bandwagon by trying to tie racist basketball team owner Donald Sterling to Democrats through a few long-ago donations. They're still at it.
Appearing on conspiracy theorist Alex Jones' show, WND editor Joseph Farah said that Sterling is a a "lifelong Democrat" and a "big time Democrat." Meanwhile, an April 29 WND article delcared that Sterling "has a lifetime record of donating only to Democrats, such as former California Gov. Gray David [sic] and former New Jersey Sen. Bill Bradley, a former NBA star."
Neither Farah nor his website mention, however, that Sterling is a registered Republican, which would seem to discredit this particular line of attack. But if WND told the truth, it wouldn't have anything to write about, would it?
Posted by Terry K. at 5:39 PM EDT