Terry Jeffrey's Transphobic Tirade
Topic: CNSNews.com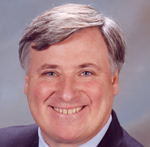 CNSNews.com editor in chief Terry Jeffrey devotes an entire column to freaking out about the federal government is planning to treat transgender employees with respect:
When an expectant mother visits her doctor for an ultrasound, the doctor invariably asks: Do you want to know the sex of your child?
The Obama administration, however, does not believe an unborn child has a sex — even when a doctor sees indisputable physical evidence.

Obama's Office of Personnel Management has published what it calls "Guidance Regarding the Employment of Transgender Individuals in the Workplace." This document speaks of "sex" as something a person has "assigned" to them only after they make it through the birth canal.

[...]

Then there is the point in the guidance governing restrooms and locker rooms.

"For a transitioning employee, this means that, once he or she has begun living and working full-time in the gender that reflects his or her identity, agencies should allow access to restrooms and (if provided to other employees) locker room facilities consistent with his or her gender identity," say the guidelines.

According to the guidance, access to a restroom or locker room should not be conditioned on anatomy.
Jeffrey doesn't mention the fact that there have been no problems with implementation of transgender-protection laws in the states that have done it.
Jeffrey then opines that "The U.S. Conference of Catholic Bishops has submitted well-reasoned comments on the proposed rule." These are the same folks who issue dubious reports on sexual abuse by church clergy.
But relating facts and showing respect is not the point of Jeffrey's column -- fearmongering is:
The people who now run our federal government not only deny the basic facts of life, they are trying to force the consequences of their denial on the world that all the innocent little boys and girls born today must inhabit tomorrow.
Spoken like a true fearmongerer. But then, Jeffrey's Media Research Center co-workers regularly freak out about transgenders.
Posted by Terry K. at 12:36 PM EDT