Knowing Joseph Farah By His Fruits
Topic: WorldNetDaily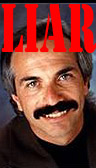 Joseph Farah writes in his March 27 WorldNetDaily column:
I was harshly criticized when I questioned Barack Obama's claim to be a Christian back in 2008 when he was running for president.

It's not an easy thing to do to dispute what someone else says he believes. For most people, faith is a private matter. Americans are often uncomfortable talking about religion. It's considered taboo to scratch beneath the surface of spiritual claims and assertions by politicians. It's considered bigoted, closed-minded, gauche.

From the reaction, I must have been the first who dared point out the contradictions in Obama's own description of his brand of Christianity in which many roads lead to the Kingdom of God.

I can't tell you how many times I was instructed and admonished about Jesus' words from Matthew 7, "Judge not, that ye be not judged."

But, as a Christian, scripture informs me that we will know people by their fruits. Obama's fruits were well-known and well-documented by the time he first ran for president. Any true believer in the One True God would have had the discernment to view what he had sown and reaped.

Today it's growing increasingly clear that far from being a believer, as Obama claimed in 2008, he is an enemy of believers – a tormenter of Christians, a persecutor.
By that same measure, we can say that we know Farah by his fruits, as demonstrated later in his column:
Obama has placed his ideological passion for abortion and homosexuality above freedom of religion.

But it's more than that.

I believe Obama and the agenda he personifies have used abortion and homosexuality as battering rams against the Christian faith.

For the proponent of unlimited government, God is truly the enemy because He is the author of liberty. He is the enemy because no one must serve a higher god than government. Men have been placing themselves in God's place, divining right from wrong, since the Garden of Eden. There's nothing new under the sun. It always leads to one end – disaster, catastrophe, death, destruction, misery, hopelessness.
That is the fruit we know Farah by -- hate, lies and deception, all in the service of making money (i.e., keeping right-wing extremists reading WND).
Farah knows what he needs to do about his history of hate and deception, for he identifies it in his column: "It's up to His people who are called by His name to humble themselves and pray and seek His face and turn from their wicked ways. Only then will this judgment on us be lifted, for He will hear our prayers, forgive our sin and heal our land."
Farah's career in the past couple of decades has been defined by wicked ways. But Farah made no apparent attempt to repent for his misdeeds during the "National Day of Prayer and Fasting" he promoted, and there's no evidence he has an interest in doing so now.
We're pretty sure the Bible has something to say about those who preach piety and repentence but have no interest in doing so themselves. Perhaps Farah can enlighten us.
Posted by Terry K. at 1:34 AM EDT