NewsBusters Silent As Anti-Obamacare Tale It Promoted Falls Apart
Topic: NewsBusters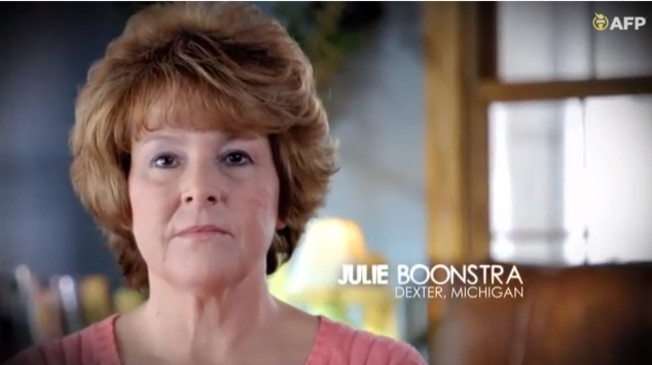 On Feb. 23, Jeffrey Meyer wrote a NewsBusters post defending Julie Boonstra -- a woman featured in an anti-Obamacare ad in Michigan -- after the accuracy of her story was criticized, complaining that "the liberal media has remained silent on this leukemia patient's nightmare dealing with ObamaCare."
This is the only reference to Boonstra on NewsBusters, which means it hasn't reported how Boonstra's story has fallen apart. Talking Points Memo summarizes:
When journalists looked into her claim, Boonstra identified the new plan she chose on the Obamacare exchanges: a so-called "gold" plan from Blue Cross Blue Shield, per the Detroit News.

Her old plan cost $1,100 per month, which adds up to $13,200 a year in premiums alone -- before co-pays, out-of-pocket costs and drug expenses.

Her new plan costs $571 per month, which adds up to $6,852 per year. Her out-of-pocket costs are maxed at $5,100, which means a maximum cost of $11,952 per year. That means her new plan cannot cost her more than her old plan.

In other words, Boonstra would save at least $1,248 under Obamacare.

When the Detroit News told her this, Boonstra was in disbelief, saying it "can't be true."

"I personally do not believe that," she told the paper.

The Affordable Care Act sets a maximum of $6,350 in out of pocket costs. So even if Blue Cross were to raise her out-of-pocket costs to the upper limit, the worst case scenario is that Boonstra would pay under Obamacare is $13,202 with everything covered -- which is what her old plan cost her on premiums alone. Either way, she saves money.
Meyer hasn't said a word about that -- and neither has anyone else at NewsBusters.
Posted by Terry K. at 3:46 PM EDT