MRC's Graham Sneers At Identifying Transgender Woman As Female
Topic: Media Research Center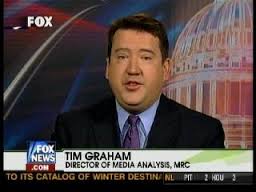 The Media Research Center seems to love having transphobic freakouts, and Tim Graham keeps up the trend by attacking a Washington Post writer for not identifying a transgender woman as the male she was born as.
Graham sneers in a Feb. 14 NewsBusters post:
The Washington Post is glorifying the man who calls himself "Janet Mock" on the front of the Friday Style section, but it's a bit puzzling. They noted the recent kerfuffle over Piers Morgan's CNN show describing Mock as "a boy until 18" as "a ticking time bomb that later exploded on Twitter."

But wait, Post reporter Dan Zak first wrote, "She had three goals when she was growing up as Charles Mock in Honolulu." So she grew up as a girl named Charles, apparently. Zak celebrated this "trans woman." Dan Zak – the smug snarkster who trashed Paul Ryan as a little boy – is now sincerely scolding the "wider world" as "always way behind on trans issues," as if he were the most sensitive, clued-in reporter on the planet[.]

[...]

The cause for this cotton-candy puff of publicity is not only the CNN controversy, but Mock's new book – evocatively titled "Redefining Realness" – has made the number-19 slot on the New York Times nonfiction best-seller list. This certainly redefines nonfiction, since transgender advocacy in the press demands a complete denial of biological reality.
Graham goes on to respond to Mock's statement that she wants to "liberate the girls" by saying, "Except...they're boys with gender dysphoria." Graham concludes by huffing:
Mock is the center of attention because the politically correct Post and suddenly sensitive Zak decided to put him there. Him? That's not "gender bigotry." That's reality. The press doesn't like reality or science on this issue. It's all a gauzy tale of flattery that could be called "The Empress Wore Shiny Pointed Black Heels."
Graham certainly knows from smug snarking.
Posted by Terry K. at 1:59 PM EST