Newsmax Columnist: To Be More Inclusive, Chevy Should Exclude Gays
Topic: Newsmax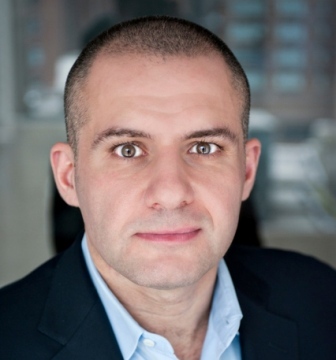 Ronn Torossian uses his Feb. 13 Newsmax column to have a conniption about same-sex couples appearing in a Chevrolet ad:
Sometimes silence really is golden. If there was a list of brands that would be considered the most likely to stay out of the progressive culture war, conventional thinking would argue that Chevrolet would be high on that list.

Chevy is an all-American brand, popular with NASCAR-loving conservative values voters, and demographics that may not think favorably of liberal change in cultural mores. That's what "conventional wisdom" may argue. But apparently conventional wisdom is wrong.

With its new Chevrolet Traverse commercial, Chevy has jumped feet first into the hornet's nest of America's ongoing debate on gay marriage, and made a commercial sure to alienate some — on an issue which no one asked for their opinion. There's no right or wrong answer — but as a PR agency CEO I ask, why would an iconic brand get involved in this no-win discussion?

How is it strategically advantageous to Chevy to enter any divisive political debate? No one is asking the company to take part in the gay marriage discussion, so why call attention to itself on this issue? It's unnecessary and could be detrimental. Sometimes less (or none at all) is more. Is this really their issue?

Rather than rushing into a debate which they think the media will appreciate, brands may want to pay more attention to considering potential outcomes and repercussions before getting into any kind of public conversation.
Torissian goes on to contradictorily argue that to be really inclusive, Chevy should exclude gays from its ads:
Chevy wants Republicans and Democrats to buy their brand, those for and opposed to gay marriage — so why touch this discussion? Wouldn't they want everyone to be loyal Chevy fans, buying Chevys, and cheering for Chevy drivers on the circuit?
Torossian seems to have missed the fact that inclusiveness is part of Chevy's current ad campaign. From the Associated Press:
Chevy, a unit of General Motors Co. that is not an official sponsor, didn't comment on the Russian laws specifically, instead saying in a statement that "these ads ... are not intended as any political commentary."

[...]

One ad, called "The New Us," for the Chevrolet Traverse crossover SUV, shows quick shots of many different families, including a gay male couple with a son and a daughter. "While what it means to be a family hasn't changed, what a family looks like has," a voiceover states. "This is the new us."

Another ad, an overall Chevrolet brand spot, features a pastiche of different images of America, including a shot of a gay couple getting married. "Like the old love, the new love starts with a kiss," a voiceover states. "Like the old community, the new community still keeps us connected. ... A whole new lineup for a whole new world."
And Torossian seems also to have missed the fact that numerous major companies have expressed their support for same-sex marriage, which means Chevy isn't exactly ahead of the curve on the issue.
Posted by Terry K. at 9:51 PM EST
Updated: Saturday, February 15, 2014 11:10 PM EST