At The MRC, Telling the Truth Is 'White House Spin'
Topic: Media Research Center
I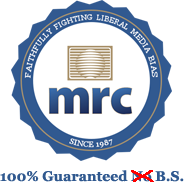 t is simply not accurate to say that a new Congressional Budget Office concluded that Obamacare will eliminate more than 2 million jobs -- to the contrary, the report said that the number of full-time-equivalent workers will decline by that amount because they will choose not to because of Obamacare subsidies. In other words, it's an issue of supply, not demand.
Yet the Media Research Center insists that accurately portraying what the CBO said is nothing more than "White House spin."
Matt Hadro complained that "the networks played to the White House spin that ObamaCare won't cut jobs since those expected to move from full-time to part-time work would do so voluntarily."
Kyle Drennen falsely declared that the CBO report stated that "ObamaCare will cost the American economy about 2.5 million jobs." Drennen then bashed NBC's Chuck Todd for noting how "Republicans immediately seized on" the Congressional Budget Office report on ObamaCare costing the economy over 2 million jobs "and spun it the way they want to spin it."
Drennen did ultimately condede the truth, but decided it wasn't important:
While it's true that the CBO report does not speak to current employees be fired over ObamaCare, it does conclude that 2.5 million people will give up working in order to receive governments subsidies instead. Not exactly the formula for growing a struggling economy.
Scott Whitlock got it wrong as well, claiming that the CBO said "ObamaCare will likely cost the U.S. 2.3 million jobs."
Matt Hadro asserted that "Liberal columnist Paul Krugman ludicrously blamed the press for 'malpractice' in reporting that ObamaCare would cut two million full-time jobs," insisting that "Krugman's cry of 'malpractice' is silly after the media either ignored the CBO or gave a White House-friendly spin."
But the right-wing media did get it wrong -- as did the MRC. But you won't see them doing a fact-check on it anytime soon.
Posted by Terry K. at 10:12 PM EST