MRC Tries to Script an Anti-Abortion Documentary
Topic: Media Research Center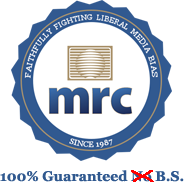 The Media Research Center informs us in a Jan. 15 article by Katie Yoder:
Each year, the March for Life is by far the largest annual rally in Washington, D.C., and each year, it's met with a near-black-out from major media. But for 2014, there's a way for the pro-life movement to change that. In a new initiative to combat media censorship on abortion, the Media Research Center (MRC) is inviting marchers to donate video for a documentary on the movement the media hide.

In 2013, the networks spent a mere 17 seconds on the half million participants at the 40th March for Life (in comparison, they spent 521 times more on the Manti Te'o football scandal). The life censorship only continued with the trial of Kermit Gosnell and beyond. Simply put, the old media fear giving pro-lifers the coverage a movement of this size and vitality deserves.

In response, MRC will produce a film from a compilation of amateur March for Life footage. If you plan to attend the March as an individual, with a church group or other organization, please document your experience and allow us to share it with the world.
But just because this is supposed to be a documentary of something that hasn't happened yet doesn't mean that the MRC doesn't have an idea of how they want it to go. In fact, they've issued rules for exactly what they want to see in the submitted footage:
What we're looking for:

Footage of you and/or your friends looking into the camera (either individually or as a group) and saying, "I am pro-life."
Footage of you and your friends briefly saying why you are pro-life or why you are attending the March
Behind-the-scenes footage of you and/or your group preparing for/attending the March. This can include footage of creating signs, your bus ride into D.C., planning meetings, marching to the Supreme Court, etc. Be creative!
If you're trying to get documentary participants to adhere to a script, it's hardly a documentary, is it?
Posted by Terry K. at 12:00 PM EST