CNS' Jeffrey Thinks Marriage And Children Fight Poverty
Topic: CNSNews.com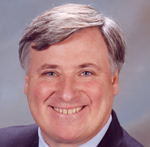 Terry Jeffrey uses his Jan. 8 CNSNews.com column to portray getting married and having children a surefire formula for financial success:
Could differences in family structure contribute to differences in family income?

In 2012, households headed by females without a spouse had a median income of $30,686. Households headed by a male without a spouse had a median income of $42,358. Households with married couples had a median income of $75,535.

What about children? Could they make a difference?

Single women did better if they had no children. The median income for a female householder who had no children was $42,147 in 2012. The median income for a single woman who had one or more children 18 or younger was $25,493.

But married couples did better with children. The median income for a married couple with no children under 18 was $70,902.
The median income for a married couple with one or more children under 18 was $81,455.

Indeed, married couples with at least one child under 18 earned a mean (as opposed to median) household income of $101,738 in 2012.
But according to Think Progress, marriage and children are not the panacea Jeffrey seems to think they are:
Kristi Williams, associate professor of sociology at Ohio State University, did some research and found that more than two-thirds of single mothers who married ended up divorced by the time they were 35 to 44. On top of that, marrying and then later divorcing leaves them worse off economically than if they had just stayed unmarried. And marriage promotion campaigns don't seem to help. An evaluation of programs in eight cities found that they didn't lead to a lasting improvement in marriage rates, relationship quality, or children's economic wellbeing. On the other hand, they "resulted in modest decreases in fathers' financial support and parental involvement," she writes.

Yet even the marriages that last don't end up offering women much of a lifeline. Firstly, Williams and her fellow researchers found that the pool of potential partners in low-income communities doesn't offer single mothers many chances for finding stable partners with economic resources. "The new unions that single mothers form tend to have low levels of relationship quality and high rates of instability," she writes. Meanwhile, those who do marry and stay together still don't see a lot of pay off. "[W]e found no physical or psychological advantages for the majority of adolescents born to a single mother whose mothers later married," she reports.
And as Slate's Matthew Yglesias details, the real reason marriage decreases poverty is shared living expenses:
Having roommates really did greatly improve my personal finances when I was in my early 20's. And the same thing happened when my wife and I moved in together. We split the Internet bill, shared one Netflix account, etc. But the greater efficiency of shared expenses isn't really what's magical about marriage, and what's magical about marriage isn't really what leads to the poverty reduction.
Nevertheless, Jeffrey rants about spending money to lift people out of poverty, claiming that "left-wing politicians will no doubt increasingly target for redistribution the wealth of married, two-parent, hard-working, diploma-earning families who cause this nation's income inequality by living exactly the sorts of lives we must live if we wish to remain free."
Posted by Terry K. at 11:31 AM EST