The Newsmax-Trump Love Affair Continues
Topic: Newsmax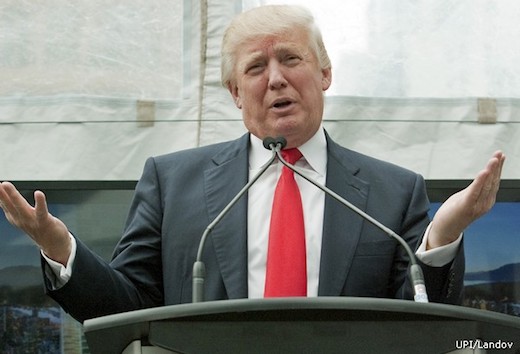 You'd think that Newsmax -- after trying to pave the way for a Donald Trump presidential run in 2012, only to get jilted after a proposed Republican presidential debate to be hosted by Trump and Newsmax ended with Trump backing out after most of the other candidates refused to take part -- would have given up on Trump by now.
You'd be wrong. Cathy Burke promotes Trump's latest political whim in a Dec. 26 Newsmax article:
Donald Trump is reportedly getting encouragement to run against incumbent Democrat Gov. Andrew Cuomo from Republican state lawmakers and Conservative Party leaders.

"We believe we moved him from a soft no to a firm maybe," strategist Michael Caputo told New York Post columnist Andrea Peyser.

In her column Tuesday, Peyser wrote state GOP chairman Ed Cox praised "The Apprentice" creator and billionaire real estate developer for his "smart political mind" after a Dec. 13 meeting.

And three days later, Conservative Party Chairman Michael Long told the Post, "Mr. Trump would give [current Gov.] Andrew Cuomo heartburn," she noted.

Peyser wrote Trump is due to meet with other local lawmakers in January — and he has already said he'll make a decision in January about whether to run.

But he's already ounding more than ready for the political fray.

"If I ran and won, this state would become so rich, our taxes would come down, people would come back, our health care would be taken care of at the highest level," he told Peyser. "Our infrastructure would be rebuilt."
Burke does note that Trump "flirted with, and then quickly ditched, a presidential run in 2012 — and has popped up on lists of 2016 GOP contenders ," but she made no mention of Newsmax's role in promoting that 2012 run.
Posted by Terry K. at 1:37 PM EST