WND Names Good Buddy Limbaugh As Its 'Person of the Year'
Topic: WorldNetDaily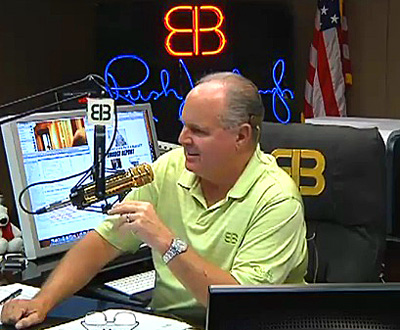 Joe Kovacs couldn't possibly be more sycophantic as he uses a Dec. 22 WorldNetDaily article to announce that Rush Limbaugh is WND's "Person of the Year":
On any given weekday, the 62-year-old man sits in a chair in a South Florida radio studio, surrounded by computer monitors displaying news sites such as the Drudge Report.

He has a "stack of stuff," which is merely a pile of printed-out news reports about events and issues he wishes to talk about, beginning at six minutes past noon, Eastern Time.

As the musical introduction of his show begins, the opening drum and guitar combination from the Pretenders' classic "My City Was Gone" pounds out a classic 1980s bass riff which, save for a Cochlear implant, the host would not be able to hear since losing his natural auditory sense years ago.
He then switches on the in-studio video known as the Dittocam and leans into a golden-colored microphone to address the largest radio audience in America, an estimated 15 to 20 million people each week.

And though he tells you what is happening in the news as well as what to think about it from the right side of the U.S. political spectrum with half his brain tied behind his back just to make it fair, none of this has anything to do with why Rush Limbaugh has been named WND's 2013 Person of the Year.

To put it simply, 2013 is a history-making year for the broadcast giant. Perhaps another, more accurate, way to phrase that is 2013 is a history-celebrating year for Rush.

The radio raconteur who goes by a variety of nicknames including the "doctor of democracy," "America's truth detector," and "harmless, lovable little fuzzball," has accomplished something that could have a massive and positive ripple effect on generations of future Americans.

In the style of "Twilight Zone" creator Rod Serling, Limbaugh has commenced a fascinating journey through time to accurately dramatize the founding of the United States for the nation's children and stop, as he puts it, "the bastardization of American history as taught throughout America today."
Kovacs is hardly objective -- he's a Rush fanboy who's been turning Limbaugh rants into WND "news" articles for years.
And Kovacs isn't going to tell you that the head of the "news" organization making the award to Limbaugh, Joseph Farah, considers himself a friend of Limbaugh's and co-wrote a book with him.
That would seem to make WND's award an exercise in logrolling rather than any sort of genuine honor (as much as an award from WND can be considered an honor, anyway).
Posted by Terry K. at 1:42 AM EST
Updated: Friday, December 27, 2013 1:56 AM EST