Brent "Skinny Ghetto Crackhead" Bozell Lectures Us On Hateful Rhetoric
Topic: Media Research Center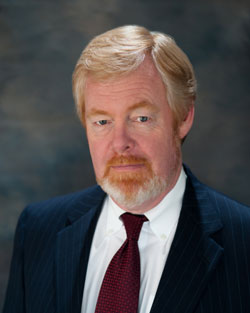 Brent Bozell gets in some parting shots upon the resignation of MSNBC's Martin Bashir, taking to a Media Research Center press release to rant:
"The question here isn't whether or not MSNBC will dispense with the hateful rhetoric it shamelessly peddles as 'news'."

"The question is: Which vile character assassin will NBC/Comcast recruit to replace Martin Bashir? MSNBC is an absolute laughingstock. If you're not apologizing for your insults (Ed Schultz), you're resigning because of them (Bashir). And if you're not smart enough to resign, they have to fire you (Alec Baldwin)."

"NBC is the network where civility goes to die. And Comcast: You own that indecency."
Bozell knows all too well that if you never apologize, you never have to resign. Bozell has yet to acknowledge that he likened President Obama to a "skinny ghetto crackhead," let alone apologize for it, and the vile insult certainly hasn't interrputed his appearances on Sean Hannity's Fox News show, where he voiced the smear.
Bozell is far from the only less-than-civil MRC worker. After all, he employs Matt Philbin, who heartily endorsed Rush Limbaugh's denigration of Sandra Fluke and piled on with further denigration of his own, and called me a "faggot" for accurately quoting his sleazy Obama-Nazi comparisons.
If Bozell truly cared about civil political discourse, he would have more forcefully cricized Limbaugh's sleaze. Instead, he wimped out and created an "I Stand With Rush" website.
Civility died at the MRC a long time ago, and Bozell owns that indecency.
Posted by Terry K. at 12:36 PM EST