Irony: WND Columnist Laments Dearth of Honest Reporters
Topic: WorldNetDaily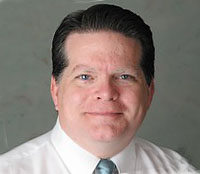 Jim Fletcher begins his Nov. 28 WorldNetDaily column this way:
It's a myth that reporters always "just report" the news. Further, it is a myth that media bias is a new thing. If we are honest, we understand that folks have been manipulating data and facts and narrative since the beginning of time.
Fletcher should probably be more aware of this than most, since he writes for a website that employs some of the most dishonest journalists on the planet. Whether it's telling lies about the president or hiding behind anonymous sources to peddle smears or race-baiting about "black mob violence," WND is less a "news" website than a far-right propaganda operation.
Fletcher himself has committed his own share of dishonesty, giving fawning reviews to books published by the website that prints his column. Fletcher has also peddled discredited theories of newspaper economics and pushed birther nonsense.
In short: If you see anyone at WND complaining about the dearth of "honest reporting," either run away or point and laugh.
Posted by Terry K. at 11:30 AM EST