WND Lets Jackie Mason Spew More Hate
Topic: WorldNetDaily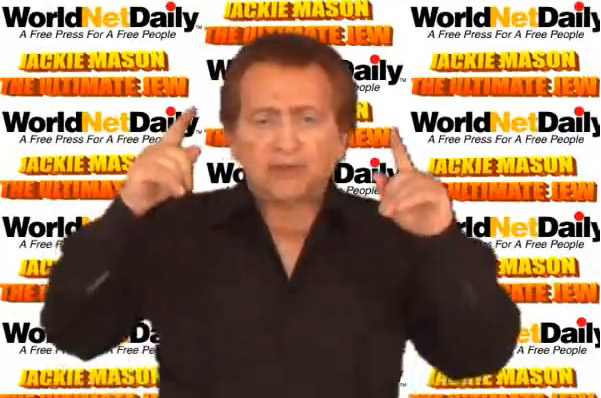 Jackie Mason stopped being funny a long time ago; now pretty much all he does is spew hate about President Obama and other Democrats.
But WND loves him for some reason -- all that hate-spewing, perhaps? -- so he continues to get a platform. Enter Aaron Klein's radio show, where WND touts Mason's appearences and his latest verbal vomit.
From a Nov. 4 WND article:
Legendary comedian Jackie Mason has uncorked a full-blown assault on President Obama and his troubled attempt at providing health care for Americans.

"It's such a ridiculous thing. The whole country's walking around wondering if this guy's really the president of a country. He sounds more like a maniac in an asylum," Mason said in a radio interview Sunday night.

"He's saying things that nobody believes. He was always lying every day of his life. Every time he talks it was a lie. The only time he told the truth is when you didn't hear from him."

"This is becoming so ridiculous, that even the biggest liar can't top himself," Mason, 82, told host Aaron Klein on WABC in New York City. "He looks at you straight in the face, and tells you that if you want your plan, you got your plan, you keep your plan. Now, a month-and-a-half later, you got no plan, you lost your plan, and he tells you you still got a plan."

[...]

The stand-up comic, who calls himself "The Ultimate Jew," continued on Obama: "He has a whole country walking around dizzy wondering who we're listening to. If this is a president of a country, how come he's the only one in America who doesn't seem to know what's going on here?

"Never did I expect a guy like this, the head of a country, to blatantly lie to your face, and then not only lie to your face, then lie about the fact that he never lied. Then lie again about the next lie he told. There used to be a time when you would worship the president, even if you didn't like him. You knew he told the truth because he's the president of a country. Now, he's the only guy in America who would have the nerve to lie this much.

"You say to yourself, 'Wait a second. Who am I listening to? Was this guy actually elected to the presidency? A man who's completely out of his mind, who's out of touch with humanity, with America, who doesn't seem to know what's going on here? Does he read a paper?'

"A guy like this should be locked up … If he wasn't the president, he'd be in jail or in a sanitarium. He wouldn't be outside talking to people in this condition. He would be considered a danger to his own his own health, to his own life.
But Mason wasn't done spitting out his hate, so WND devoted a Nov. 13 article to more of it:
Comedian Jackie Mason, who has made it known he thinks President Obama is a lying "maniac," is also unloading on former Secretary of State Hillary Clinton as an "empty-headed" invention of the press who could actually be put on trial "as a murderer" for her role in the Benghazi fiasco that left four Americans dead.

"I would say that compared to this guy [Barack Obama], she's a sensational person. Compared to a person who should be a president, it sounds like this is another case for a sanitarium," Mason told WABC Radio host Aaron Klein.

"Because the truth of the matter is she's accomplished nothing in her life and she's an invention of the press. The press is a Democratic Party press in this country, and when they pick out somebody to anoint them for the position of the presidency, they elevate them every single day in the paper as a brilliant woman. When you see 'brilliant woman' every day, and if you're not involved in politics, you assume she must be a brilliant woman, because you're reading it every day in the paper."

"So they invented her as some kind of a genius," Mason continued, "and nobody is studying the situation to find out what she really is. What she really is is an empty-headed person who accomplished nothing all her life. And they created a piece of fiction out of absolutely nothing. It's just like they took a person from the street and they decided that this guy who's sweeping toilets all his life really should be the president because he's not really in the toilet, he's creating the toilet."

Mason said it was time to be honest, and that Mrs. Clinton's only claim to fame is that she was married to a president.
Since Mason believes in honesty so much, perhaps it's time to tell him that he's not funny and should stay away from a microphone until he figures out how to be funny again.
Aaron Klein is certainly not going to tell him that.
Posted by Terry K. at 2:48 PM EST