WND Brings Back One Of Its Favorite Convicted Felons
Topic: WorldNetDaily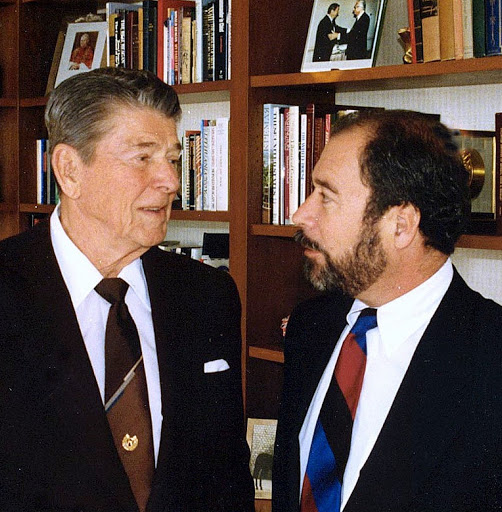 An unbylined Nov. 9 WorldNetDaily article states:
A foundation created by legendary screen actor Jimmy Stewart with the active support of President Ronald Reagan is launching a new initiative to support citizen whistleblowers of all kinds who step forward to expose corruption and abuses of power.

The American Spirit Foundation's Citizen's Whistleblower Network is a new You Tube channel that will feature videos and first-hand accounts by citizens and independent investigative reporters.

[...]

The foundation's website has a whistleblower section that features foundation co-founder Peter Paul, whose exposure of Hillary Clinton's handling of campaign finances led to the indictment of her campaign finance director and a fine assessed to her campaign for hiding Paul's in-kind contribution of more than $750,000.
Peter Paul? That name sounds familiar. The article goes on:
As WND reported, Paul is in a federal prison for manipulating the price of the stock in his company, from which he made the campaign donation, as it was collapsing. He blamed President Clinton in a lawsuit for sabotaging the company, Stan Lee Media, to get out of a $17 million agreement to serve as the company's international promoter after he left the White House.

Calling himself a hidden political prisoner, Paul claims Attorney General Eric Holder and his Justice Department are obstructing justice by reneging on a sentencing agreement that would have released him from federal prison more than three years ago.

Paul is a former business partner of Spider-Man creator Stan Lee, who once served as chairman of the American Spirit Foundation. Paul was the foundation's president and CEO.

"Hillary is carrying out her promise to finally destroy my family to punish me for exposing the corruption that elected her to the Senate," Paul contended to WND in an email in March 2012 from the La Tuna federal facility in Anthony, Texas, near El Paso.
The "political prisoner" claim aside, that may be the most truthful description WND has given to Paul's crimes. As we've documented, WND has previously soft-pedaled Paul's criminal record in order to preserve what little credibility he has as a Clinton-basher.
And of course, Paul's claim to be a "political prisoner" -- which nobody at WND apparently felt the need to fact-check -- is completely overblown. If he was innocent of his crimes, why did he flee the U.S. for Brazil in 2001, then spend two years fighting extradition to the U.S.? Paul also ludicrously claimed that "the Clinton Justice Department had him jailed while he was in Brazil" despite the fact that the original indictment against Paul was not issued until June 2001, and he was arrested in Brazil in August 2001 -- months after the Clinton administration left office and, thus, no longer ran the Justice Department.
The unidentified WND writer failed to note the sheer hypocrisy of allowing a twice-convicted felon (he also has a conviction for cocaine possession under his belt) who's still in prison running any kind of whistleblower operation.
Posted by Terry K. at 2:37 PM EST