WND Likens Valerie Jarrett To A Serial Killer
Topic: WorldNetDaily
A Nov. 5 WorldNetDaily article by Michael Maloof carries the headline "General blames 'Night Stalker' for military purge." Maloof begins the article: "Who, or what, is behind the "purge" of top-level U.S. military officers during the Obama administration, with estimates of the number of senior officers fired during the last five years edging toward 200?"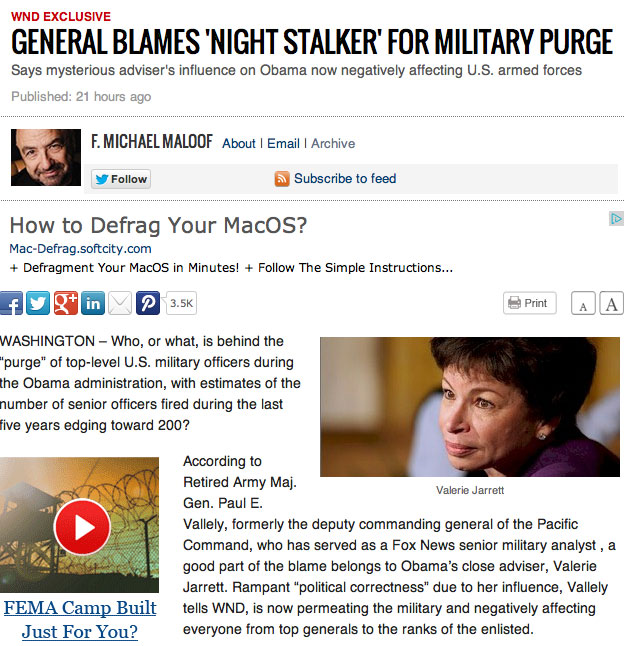 It turns out that Maloof is talking about Obama adviser Valerie Jarrett, whom birther general Paul Vallely blames -- without evidence, of course -- for the dismissal of some senior military officers.
Maloof adds: "London's Daily Mail newspaper notes that Jarrett's insider nickname is 'Night Stalker' because of her exclusive, late-night access to the presidential family's private quarters." But the Daily Mail article cites no "insiders" to back up the claim, stating only that "Jarrett is reportedly called 'the Night Stalker.'"
You might remember that "Night Stalker" is also the name that was given to Richard Ramirez, serial killer and avowed Satanist.
Why are we assuming that WND had Ramirez in mind when promoting this purported nickname for Jarrett and not, say, the 1970s TV series?
Let's go back to a June column by WND editor Joseph Farah. In it, Farah bragged that he was "the guy who bestowed" the "Night Stalker" title on Ramirez when he worked at a Los Angeles newspaper, further bragging that "I actually won an award for that headline."
We would say that Farah should know better if weren't for the apparent fact that Farah knows exactly what he's doing -- trying to associate the Obama White House with one of America's most infamous serial killers.
What kind of man is so amoral, so sick as to do something so depraved? The kind of man who lies about Obama with impunity.
Maloof piles on with his reference to "Who, or what, is behind the 'purge,'" suggesting that he doesn't even think Jarrett is human.
These are sick people.
Posted by Terry K. at 7:16 PM EST