WND, Newsmax Tout Claim By Discredited Author
Topic: WorldNetDaily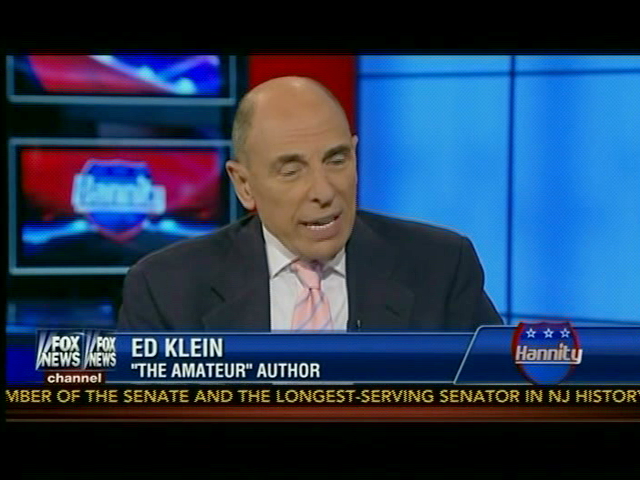 Sandy Fitzgerald and Kathleen Walter write in an Oct. 16 Newsmax article:
The ongoing government shutdown and budget battle will haunt President Barack Obama and Democrats seeking House control in 2014, says Ed Klein, author of the political exposé "The Amateur: Barack Obama in the White House" — and White House Adviser Valerie Jarrett has been pulling the strings behind the scenes.

"The mainstream media has played this as a Republican gambit, which in fact it wasn't," Klein , a journalist and New York Times best-selling author, told Newsmax TV. "From the very beginning it was the president's strategy to demonize the Republicans on the shutdown in order to win the House of Representatives during the midterm elections."

And Jarrett and first lady Michelle Obama both enjoy an overwhelming influence over the president, Klein told Walter.

"The fact of the matter is that the strategy that the president is currently carrying out, which is the demonizing of the Republican Party, the effort to make the Republicans look like they are the bad guys in this whole thing, is the strategy that was devised and has been urged on the president by Valerie Jarrett, his senior political advisor," Klein said. "She has kept whispering in the president's ear, 'Stand firm, stand firm, and you're going to win.'"
Similarly, Garth Kant writes in an Oct. 16 WorldNetDaily article:
The shutdown was deliberately orchestrated by the White House, according to the former foreign editor of Newsweek and editor-in-chief of the New York Times Magazine.

Why would the White House intentionally cause such pain and havoc across the country?

It is a ploy to win votes, concluded author Ed Klein.

He told the New York Post that President Obama's closest adviser, Valerie Jarrett, developed a strategy to force a showdown with Republicans over Obamcare.

Jarrett recommended shutting down government because, Klein said, she believed voters would pin the blame on Republicans.

And that would give Democrats the opportunity to win control of the House of Representatives in the 2014 midterm elections.
Neither Newsmax nor WND mention the fact that Klein is a discredited author with a right-wing agenda. They also failed to mention a secret Republican rule change that all but guaranteed a shutdown by essentially ensuring that a "clean" continuing resolution from the Senate would never be introduced in the House.
There's also the inconvenient fact that Republicans were the ones who had been planning a shutdown for months. Newsmax and WND don't mention that, either.
Posted by Terry K. at 2:04 AM EDT