WND Treats Logrolling Review As 'News'
Topic: WorldNetDaily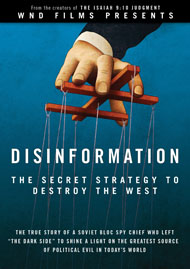 An unidentified WorldNetDaily writer breathlessly gushes in an Oct. 6 article:
According to a top Christian film-rating organization, "Disinformation," the acclaimed new documentary from WND Films, is "a brilliant exposé of the communist strategy to destroy the West" which showcases a "very strong moral worldview" and "every minute of this two-part documentary is worth watching."

That's the assessment of MOVIEGUIDE, founded by Ted Baehr, chairman of the Christian Film & Television Commission and a well-known movie critic.
After reprinting much of the review, WND states:
"Disinformation," concluded the review, which gave the production a four-star (highest possible) rating, "is a massive work, but well edited and keeps your attention throughout its running time. Although it could have been trimmed a little and tweaked in certain places, overall it is a must-see video exposé of communism. With time running out on faith and freedom, "Disinformation" is highly recommended viewing for every concerned American."
Unmentioned by this anonymous WND writer:
Ted Baehr is a friend of WND editor Joseph Farah. In 2011, Farah touted his 23-year friendship with Baehr, adding that "I consider Ted Baehr a hero" and urging readers to donate to his "wonderful ministry."
WND published Baehr's 2011 book "How to Succeed in Hollywood (Without Losing Your Soul)."
WND has a business relationship with Baehr's Movieguide, publishing its reviews on the WND website.
This is not a review -- it's logrolling. The fact that WND is treating this "review" as "news" only confirms its logrolling nature.
Posted by Terry K. at 10:20 AM EDT