NewsBusters' Blumer Has A Fit That AP Is Reporting Good Economic News
Topic: NewsBusters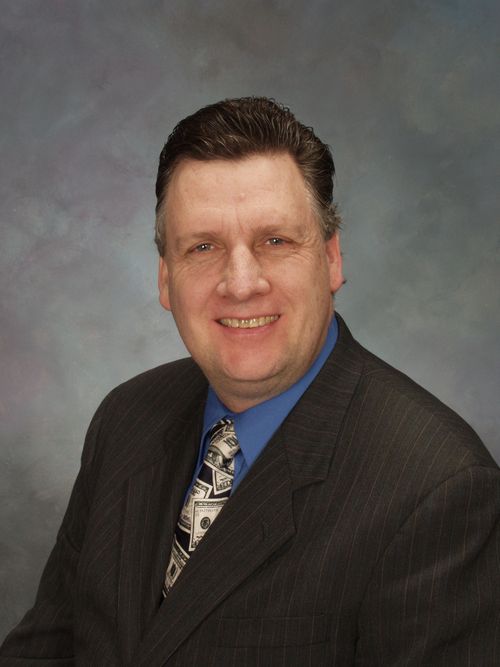 Tom Blumer just hates it when there is good economic news under a Democratic president.
An Associated Press article noting the decline in new unemployment applications since the depth of the recessions sent Blumer on an unhinged, petty rant in an Aug. 23 NewsBusters post:
After a two-year hiatus, the Associated Press has apparently decided that Americans need a weekly reminder of how bad weekly layoffs were during the recession.

In June 2011, possibly as a result of some hectoring by yours truly, the wire service totally or almost totally stopped reminding readers that "(unemployment) claims applications peaked at 659,000 during the recession." That tired figure was already over two years old, and isn't even an all-time record (several weeks during the 1980s were higher, even with a much smaller workforce). So who cares? But in each of the past three weeks, AP has resurrected that tired number (since revised slightly upward because of changes to seasonal adjustment factors), as if a one-week stat from almost 4-1/2 years ago means anything to anybody right now:
Blumer then goes ballistic over the AP stating that unemployment claims have "fallen steadily" reaching their peak because "here are two periods of more than seven month or so since that peak during which the four-week moving average moved up and stayed up." But the chart of this he includes to prove this demonstrates beyond a shadow of a doubt that the overall trend has been steadily down: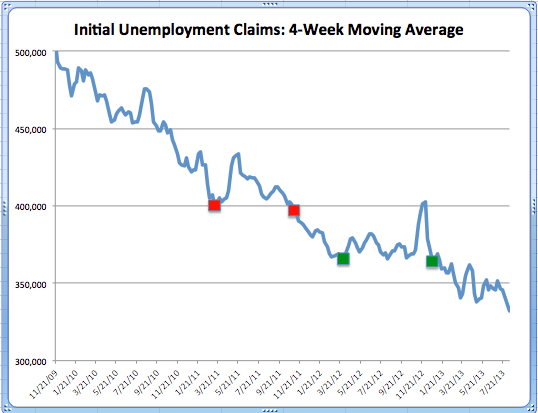 Blumer, mind you, is the chief economic blogger for NewsBusters. But it appears that, like with
many other things
, he'd rather put his right-wing politics before economic facts.
Posted by Terry K. at 12:37 PM EDT