WND: Real Americans Didn't Vote For Obama
Topic: WorldNetDaily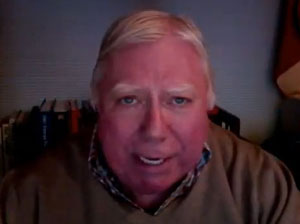 It seems WorldNetDaily still can't get over the fact that President Obama won re-election. But it seems to have moved on from portraying it as a harbinger of the apocolypse to merely denigrating anyone who voted for him.
An Aug. 2 WND article promoting WND writer Jerome Corsi's book "What Went Wrong" portrays those who voted for Obama is not real Americans, starting with the headline "How Obama won with demographics, not Americans":
When Barack Obama won the 2012 presidential election many in mainstream America wondered just what was going on with their friends and neighbors – who must have voted for the left-leaning agenda-driven Democrat.

Now some answers are coming out, amidst the release of "What Went Wrong: The Inside Story of the GOP Debacle of 2012… and How it Can Avoided Next Time," a ring-side seat to an election many pundits thought was an easy victory for Republican Mitt Romney.

[...]

For example, instead of assembling a campaign and agenda that would appeal to all Americans, Corsi notes, Obama put together a package that capitalized on identity politics, appealing to African-Americans who overwhelmingly picked Obama, Hispanics who chosen the incumbent 71 percent to 27 percent, union workers, unmarried women and the lesbian, homosexual, bisexual and transgender crowds.
Last time we checked, however, blacks, Hispanics, union workers, unmarried women and "the lesbian, homosexual, bisexual and transgender crowds" were all Americans.
WND also makes clear that Corsi is a highly biased reporter:
Corsi's work recalls Phyllis Schlafly's warning decades ago that establishment Republican candidates – like Romney in 2012 and Sen. John McCain in 2008 – are destined to lose.

The reason? "Centrist" Republican presidential candidates offer voters nothing more than an "echo" of their liberal Democratic opponents, not the "choice" voters want – the choice that exists only when conservative Republican presidential candidates run hard-fought contests on conservative principles, directly challenging leftist presidential contenders like Barack Obama.

Democrats in swing states have transformed vote fraud and abuse into an ongoing process in a never-ending political campaign that can be challenged only by the passage of vigorous voter ID programs.
In fact, voter fraud does not exist to any meaningful extent and is already illegal, and Corsi's support for "vigorous voter ID programs" demonstrate that Republican and conservative support for such laws is rooted in voter suppression, not protecting voting integrity.
Posted by Terry K. at 10:23 AM EDT