WND Has Links to Racist Tea Party Group
Topic: WorldNetDaily
The group TeaParty.org recently sent out a email promoting a new endeavor by sister organization Citizen Freedom Project -- a campaign where "For just $29.95 you can send a PINK SLIP to all 535 members of the House and Senate telling them to IMPEACH OBAMA! Let this Pink Slip serve as 'official warning' that they are to put the president on notice right now!"
Does that sound and look familiar? It should -- four years ago, WorldNetDaily was running a
very similar
"pink slip" campaign, with a similarly
factually challenged message
, for exactly the same price.
It turns out that idea-sharing is not the only link TeaParty.org has with WND.
The TeaParty.org publishes "exclusive" regular commentaries by WND "reporter" Jerome Corsi. In his most recent commentary, for example, Corsi falsely claimed that President Obama refused to express support for "the verdict of the jury. In fact, Obama specifically said: "The juries were properly instructed that in a -- in a case such as this, reasonable doubt was relevant, and they rendered a verdict. And once the jury's spoken, that's how our system works."
But that's not all. WND publicist Tim Bueler is an official with TeaParty.org, serving as its secretary and media director. Bueler also accompanied Corsi on his ill-fated 2008 trip to Kenya, where they were briefly detained and Corsi brought back fraudulent documents he used to try and falsely smear Obama before the 2008 election.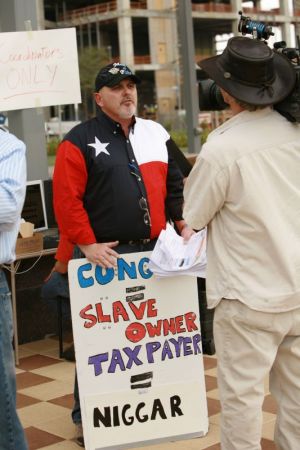 Why do we care? First, TeaParty.org, also known as the 1776 Tea Party, is headed by Dale Robertson, who is best known for carrying around a sign at a 2009 rally with the (misspelled) N-word on it. Other tea party groups couldn't run from Robertson fast enough.
Second, Bueler and TeaParty.org executive director Stephen Eichler have another nefarious connection. They used to work with the Minuteman Project, the border vigilante group founded by Jim Gilchrist. (Corsi was a supporter of Gilchrist as well -- he also wrote a book about Gilchrist -- until Gilchrist endorsed Mike Huckabee in the 2008 election, whom Corsi deemed insufficiently anti-immigration.) The Minuteman Project's "border operations director" was Shawna Forde, best known for her role in the 2009 killings of a 9-year-old girl and her father, for which she was found guilty of first-degree murder.
(By the way, the only mention of Forde's crimes at WND come in a May 2011 column by Rob Sanchez complaining that "Shawna Forde got the death penalty even though she did not murder anyone" and that her case shows that "the courts have been corrupted by political correctness, mob rule and race-based politics.")
These are the people who are WND's fellow travelers, with some of them being WND employees. Is it any wonder that nobody believes WND?
Posted by Terry K. at 1:24 AM EDT