NewsBusters' Double Standard on News Orgs Editing Stories After Publication
Topic: NewsBusters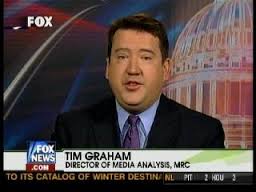 Tim Graham uses a June 16 NewsBusters post to complain that the New York Times "found it advantageous to edit out an America-hating Iranian who wished the Times building would burn down" and other supposedly pertinent information.
Certainly the Media Resarch Center, where Graham is director of media analysis, would not be so gauche as to make substantive changes in articles after publication and not tell their readers, right?
That's a trick question -- of course the MRC has done this.
As we've documented, a June 14 CNSNews.com article by Penny Starr falsely claim that Mark Sanford "resigned as governor of South Carolina in 2009 after he revealed that he was having an extra-marital affair."CNS later removed the entire paragraph containing the false claim about Sanford resigning -- which also means the reference to Sanford's affair has also been deleted. CNS also didn't bother to tell readers that Starr's article has been corrected.
Shouldn't Graham hold the organization for which he works to the very same journalistic standards he applies to others?
Posted by Terry K. at 9:03 AM EDT