WND's Flaherty Thinks Dogs Can Form Black Mobs, Too
Topic: WorldNetDaily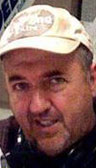 Did you know dogs can form "black mobs" just like black people? We didn't either, until we read Colin Flaherty's June 6 WorldNetDaily article:
Sometimes reporters just cannot ignore black mob violence: Especially when they are the victims.

The latest example comes from Providence, R.I. Local newshound Abbey Niezgoda and her photographer were dutifully asking a mother what she thought about the alleged shooter of her daughter turning himself in.

Melissa Lawrence did not like the question. She screamed and threw a rock at the cameraman's head, hitting his arm as he tried to shield his face. All on video.

"Are you going to throw rocks?" asked Abbey with a remarkably calm demeanor.

The woman answered by running up the stairs to get a baseball bat while at least two other people watched.

"Get away from me," she yelled at the reporters upon her return, who were standing in the street.

But before they had a chance to leave, Lawrence released her hounds, instructing them to attack. Two pit bulls came flying out of the fenced yard, straight at the cameraman. Not finding fair game there, they attacked Abbey while she ran down the street.

[...]

This is hardly the first time that local TV news reporters have been under assault from black mobs.
To sum up: A black woman with two dogs equals a "black mob" in Flaherty's race-baiting mind. And the dogs aren't even black.
Posted by Terry K. at 1:48 PM EDT