WND Is Taking the Video Plunge (With Molotov Mitchell)
Topic: WorldNetDaily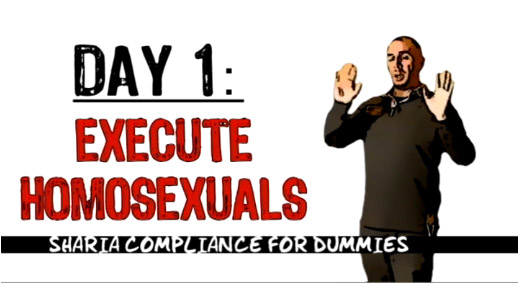 What is WorldNetDaily's next big move after its four-year campaign to personally destroy Barack Obama resulted in nothing but the destruction of any credibility it may have had?
Take on the cloak of religion and move into video.
The latter is made clear in a form of a weird reality series dreamed up by Molotov Mitchell, as described in a June 5 WND article:
Produced by Molotov Mitchell, head of Illuminati Pictures, "Zero to Superhero" follows the travails of Urquhart, an overweight (341 pounds) and unremarkable 32-year-old, as he pursues his dream of becoming a real-life superhero.

"But this show isn't just about a guy 'dressing-up' in costume," explained Joseph Farah, co-founder and CEO of WND. "It's about a group of specialists getting together and actually training and equipping a superhero-wannabe from the ground up."

Led by Mitchell, the hand-picked specialists will take Jeeves through intense fitness training, drill into him new skills (like Krav Maga, the hand-to-hand combat technique used by Israel's Mossad intelligence agency) and outfit him with cutting-edge tools.

"We're going beyond comic books and caricatures," Mitchell said. "We've never seen what actual superhero-making would look like. It will be incredible to watch Jeeves drop tons of weight. It will be amazing to see him learn incredible fighting skills and face his worst fears."

[...]

When asked what's next for Urquhart, Mitchell gave WND a sneak peek at what's in store for the would-be superhero: "After he's lost the weight, after he's a proficient fighter, Jeeves plans to patrol the streets of Durham, reporting crime and assisting people in need.
Will Mr. Urquhart be beating up gays as part of ol' Molotov's desire to achieve "the abolition of homosexuality"? Guess we'll have to watch to see.
Or -- given that Mitchell is also responsible for the likes of hate-spewing, homophobic, painfully unfunny "comedy" videos starring his wife, D.J. Dolce -- perhaps not.
But at the end of that article is a clue to the bigger agenda WND wants to pursue -- and, presumably, try to make people forget about its self-disgracing birther obsession in the process:
For WND-TV, "Zero to Superhero" is the beginning of higher goals as well.

George Escobar, WND's vice president of film and television and an award-winning filmmaker in his own right, explains WND-TV is planning to launch several new online programs and hopes "Zero to Superhero" will become the kind of "breakout hit" that only serves to expand WND's audience.
Yes, WND is apparently going full force into churning out video content. As for the religious aspect, that's made clear in another June 5 WND article:
WND announced today that it will host the annual Advent Film Workshop at its new studio facilities in Chantilly, Va., June 14-15.

Advent co-founders George Escobar and Michael Snyder will lead the workshop. Hour-long sessions include: film funding, micro-budget producing, hiring professional actors, effective marketing and distribution techniques, story development secrets and film career planning for filmmakers of all ages.

"We are excited about this new chapter in our film training program," Escobar said. "Previously we've held the workshop at Patrick Henry College, the home of our first feature film, 'Come What May.' Now we have the additional opportunity to work alongside WND, a powerhouse in online independent news, attracting over 7 million unique visitors a month and more than 40 million pageviews."
By the way, Chantilly is located not too far from WND editor Joseph Farah's residence elsewhere in Fairfax County, Va., which has the second-highest median household income in the country.
One wonders where WND is getting the money to do this in the aftermath of making itself into a national laughingstock for its birther obession, not to mention doing so in a fairly high-rent area of the country. Perhaps it's coming from "The Isaiah 9:10 judgment," a WND-produced film riding the coattails of the religious prophecy book "The Harbinger."
In addition to his WND work, Escobar (who directed "The Isaiah 9:10 Judgment") also heads Advent Film Group, a maker of right-wing-leaning Christian films and documentaries. His company made a film in 2009 called "Come What May," which was inspired by a moot court case on abortion that was argued by the moot court team of Patrick Henry College. The school -- which caters to evangelical Christian homeschooled children, and which at least one child of Joseph Farah has attended -- helped in the making of the film to the extent that college founder and president Michael Farris has a starring role.
Everyone's getting into online video these days. But with Molotov Mitchell playing a key role in WND's take on it, perhaps Farah should save some of his prayers from his Obama-bashing 9/11 day of prayer for hoping that Mitchell's patented hate doesn't drag the whole operation down. But since Farah seems quite comfortable with the bottom-scraping level of his website, maybe a sleazy, hateful video operation is exactly what he wants.
Posted by Terry K. at 2:11 AM EDT
Updated: Monday, June 10, 2013 2:28 AM EDT