WND Blames Obama For Suicides, Stress
Topic: WorldNetDaily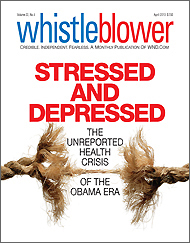 Is there anything WorldNetDaily won't try to pin on President Obama? It seems not. Judging by the promotion for the latest issue of WND's Whistleblower magazine, it appears that people feeling stressed is Obama's fault as well:
"I think Obama is challenging everybody's sanity," Rush Limbaugh exclaimed recently. "Obama [is] literally pushing people to snap, attacking the very sanity of the country!"

Rush may be on to something – because a little-reported but crucial aspect of America's ongoing "fundamental transformation" is that the sheer stress of life is driving tens of millions to illness, depression and self-destruction. It's all documented in the groundbreaking April issue of Whistleblower, titled "STRESSED AND DEPRESSED: The unreported health crisis of the Obama era."
One of the "stunning trends" WND apparently wants to pin on Obama: "More U.S. soldiers died last year by suicide than in combat, and suicide has surpassed car crashes as the leading cause of injury death in America." Apparently, lengthy wars in Iraq and Afghanistan -- neither of which was started by Obama -- has nothing to do with that statistic.
WND will also apparently use the magazine to rehash its baseless fearmongering about antidepressants. There are two articles by WND managing editor David Kupelian, one of which, titled "Doctors, drugs and demons," is sure to once again blame Andrea Yates' killing of her five children on antidepressant use and will most certainly not mention that she was in thrall to a fundamentalist street preacher who not only did nothing to help her but may have actually made her condition worse.
Posted by Terry K. at 7:50 AM EDT
Updated: Monday, April 8, 2013 7:51 AM EDT