Who Does The Devil In Bible Miniseries REALLY Look Like?
Topic: WorldNetDaily
Given that WorldNetDaily already thinks President Obama is the Antichrist, it's no surprise that it would pounce on claims that the devil in the miniseries "The Bible" looks like Obama.
WND's self-proclaimed Bible scholar Joe Kovacs -- who apparently hateds Obama more than he loves God -- obliges by pushing the meme in a March 18 article: "President Barack Obama, already famous for having flies attracted to his face, is now the subject of devilish talk after Sunday night's episode of 'The Bible' miniseries on the History Channel, with big names such as Glenn Beck and Rush Limbaugh providing their thoughts."
But there's another, more sinister likeness that Kovacs has overlooked.
The actor playing the devil is Mehdi Ouazanni. He's the guy on the left, and on the right is someone whom you might find familiar: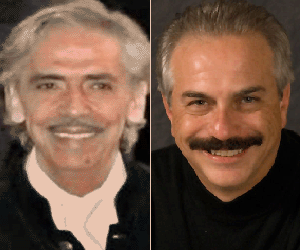 That's right. If the devil is Obama, the guy who portrays him is really Joseph Farah.
Given Farah's jihad against Obama for the past five years, the theological implications of this are staggering. Since Farah also portrays himself as a Bible expert, perhaps he can explain.
Posted by Terry K. at 2:24 AM EDT