WND Bizarrely Blames Obama For 'Wrecking NASCAR'
Topic: WorldNetDaily
Joe Kovacs begins his May 17 article, headlined "Study: Obama economy wrecking NASCAR," this way:
With President Obama at the wheel of the U.S. economy, the car-racing industry appears to be wrecking, with few signs of getting back on the right track.

That according to a new study examining the financial state of NASCAR, the National Association for Stock Car Auto Racing.
Just one little problem: The facts don't back Kovacs up.
Kovacs is citing a study paid for by Race Fans 4 Freedom, which claims to be "an independent nonprofit dedicated to empowering race fans with the knowledge of what has made America the best and the ability to unite as a driving force for the future of our country." In other words, a right-wing group. Kovacs mentions nothing about the group's partisan leanings.
There is one word notably absent from the study: "Obama." That's right -- unlike Kovacs, the study doesn't explicitly blame Obama.
Also, Kovacs manages to further discredit himself by including a graphic from the study in his article: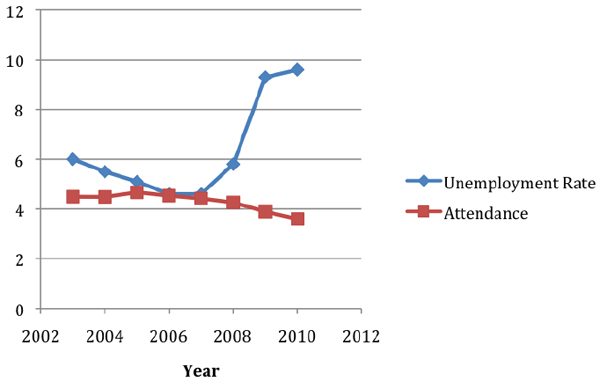 Note that the decline in NASCAR attendance began in 2006 -- three years before Obama took office. It defies logic to blame Obama for that, but Kovacs has decided to do that anyway.
Is this bogus, mindless Obama-bashing more of that "real news" Kovacs says he came to WND to report?
Posted by Terry K. at 1:01 PM EDT