Will WND's Kinsolving Stop Touting His Pulitzer Nominations?
Topic: WorldNetDaily
Last week, Jonah Goldberg was busted for touting in a book jacket blurb for his new book as having "twice been nominated for a Pulitzer Prize." As MSNBC details, that bit of resume padding is utterly meaningless -- all it takes to be nominated for a is filling out an entry form and paying a $50 fee.
But Goldberg is not the only right-winger who does that. The online bio of WorldNetDaily writer Les Kinsolving touts how he was "twice nominated for the Pulitzer Prize for his commentary":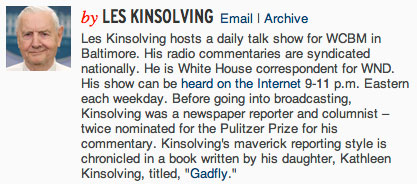 These nominations were expanded upon in the fluffy, WND-published Kinsolving bio "Gadfly," authored by his daughter Kathleen. The first was for a religion column he wrote in the late 1960s and was submitted by the newspaper that syndicated it; no specific examples of the nominated commentary are identified in the book.
The second came in 1973 from the newspaper he worked for -- though, ironically, not for the closest thing to real journalism he ever did: Early reporting on the Jim Jones-led People's Temple, a religious cult then based in San Francisco which later relocated to Guyana and years later staged a mass suicide of its members.
Even if one were to take Kinsolving's Pulitzer nominations at face value, this means that he has done nothing Pulitzer-worthy for nearly 40 years. Of course, if you've seen Kinsolving's biased questioning, temper tantrums and rampant homophobia at WND, you knew that already.
Will Kinsolving and WND be as chastened as Goldberg and remove that meaningless bit of puffery from Kinsolving's bio? Don't count on it.
Posted by Terry K. at 10:13 AM EDT