What Happened To WND's Birther Billboard Partner?
Topic: WorldNetDaily
When WorldNetDaily adjusted its birther billboard campaign in July to read "Where's the real birth certificate?" it acquired a new partner in the endeavor: RTR.org, a right-wing "Social Network of the Revolution." While WND didn't acknowledge RTR as a partner in the inital article on the campaign, RTR's logo appears in the upper left corner of the billboard.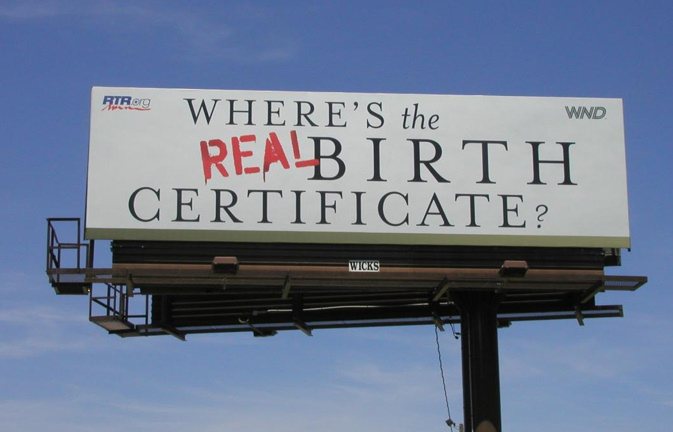 For its part, RTR
stated
that "RTR.org's Gary Franchi partnered with WND in light of the latest Obama birth certificate revelation," and created a donation page for the campaign.
But a month later, WND put up a new billboard in Iowa -- and the picture of it in an Aug. 7 WND article shows that RTR's logo is nowhere to be found.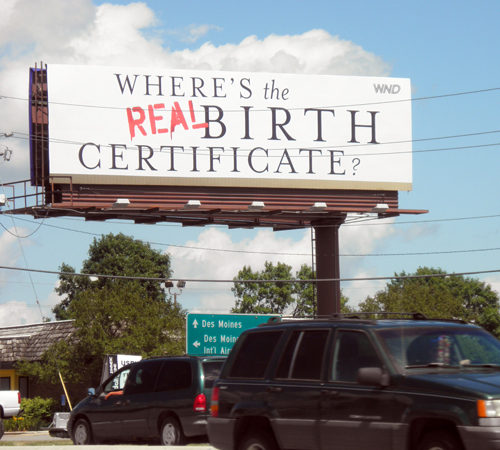 WND's latest billboard, shown in a Nov. 15 article, also lack the RTR logo.
So, what happened? Was there a falling out? Did one party somehow screw over the other? Was RTR unable to raise the money WND demanded? We have no idea, but inquiring minds would like to know.
Of course, the issue might be that Franchi is too nuts even for WND. in a recent "Reality Report" pretend newscast, Franchi goes truther, shills for Ron Paul, and attacks FEMA for allegedly turning away volunteer firefighters from helping with the Texas wildfires (a claim that seems to be less than true).
Posted by Terry K. at 11:04 AM EST