CNS' Jeffrey Baselessly Suggests Obama's Grandmother Wasn't Discriminated Against
Topic: CNSNews.com
Terry Jeffrey, it seems, cares much more about trying to destroy President Obama than he does about telling the truth.
In his latest example of doing so, he writes in an Oct. 3 article:
First Lady Michelle Obama said at a fundraiser in Providence, Rhode Island, on Friday night that a bank where Barack Obama's grandmother had worked discriminated against her for nearly two decades "because she was a woman."

However, the Washington Post reported earlier this year that Obama's grandmother, Madelyn Dunham, had been the first female vice president of the Bank of Hawaii.

Meanwhile, Barack and Michelle Obamas' 2009 tax return, posted on the White House website, indicates the Obamas inherited almost $500,000 worth of the bank's stock from the president's grandmother.
What does one have to do with the other? Jeffrey never explains. After all, tge fact that Madelyn Dunham ultimately rose to the bank's management and was eventually paid well does not in any way disprove Michelle Obama's statement that Dunham was discriminated against. Indeed, given that sex discrimination was rampant around the time that Dunham was beginning her banking career, Obama's statement has the ring of truth.
In case Jeffrey's slyly accusatory writing wasn't obvious enough, his overly long headline drove his bogus accusation home: "Michelle: Bank Sex-Discriminated Against Barack's Grandmom; Tax Returns: Barack Inherited $480,908 in Bank's Stock from Bank's VP (His Grandmom)."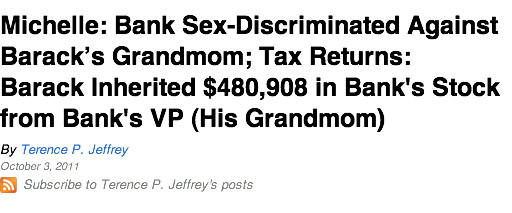 Apparently, Jeffrey no longer cares about being a journalist and is devoting his time to being an Obama-hating hack. Anything for a Drudge link, eh?
Posted by Terry K. at 12:07 AM EDT