WND Headline: 'Obama Hates America. Why?'
Topic: WorldNetDaily
A promotion for the latest issue of WorldNetDaily's Whistleblower magazine carries this headline:

That, of course, is a bald-faced lie, and they know it. Perhaps the headline should be: "WND can't do a story about Obama without lying. Why?"
The lying continues in the article itself by taking Obama quotes out of context to make a false conclusion:
"America is – is no longer, uh, what it could be – what it, it once was. And I say to myself, I don't want that future for my children." – Barack Obama to a 7-year-old girl asking why he wanted to be president, Elkhart, Indiana, Aug. 6, 2008

Whether Barack Obama is apologizing about America to a 7-year-old child or to European and Muslim world leaders, after 18 months as president there is no longer any doubt about which direction he's taking America: Down.


"Given our interdependence, any world order that elevates one nation or group of people over another will inevitably fail." – President Barack Obama in Cairo, Egypt, June 3, 2009
"Whether we like it or not, we remain a dominant military superpower." – President Obama at close of two-day nuclear-security summit in Washington, D.C., April 13, 2010
"[The world] cannot depend as much on the U.S. as it did in the past." – U.S. Treasury Secretary Timothy Geithner to the BBC, June 25, 2010

By every objective measure, it's clear that President Obama and those surrounding and guiding him are firmly committed to ending, once and for all, America's economic, military and moral leadership in the world.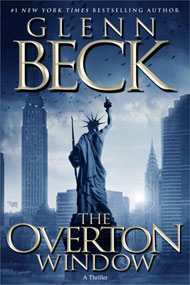 The purported antidote is not telling the truth -- as one might expect from a self-proclaimed "news" organization, but this very issue of Whistleblower, which managing editor David Kupelian describes as "the antidote to Obama and his vision of a dependent, enfeebled, American socialist utopia. ... It transports readers to the real America – the nation they loved as a child, the 'shining city on a hill' our founders gave us and the Pilgrims dreamed about and courageously pursued."
The funny thing is, Kupelian shares the same idea about the country as Obama, as expressed in the first out-of-context quote -- that America is no longer "what it once was."
Actually, there's another funny thing going on here. As one of the premiums for subscribing to its overpriced magazine, WND will give you ... a copy of Glenn Beck's ridiculous novel, "The Overton Window."
Which makes it only slightly more ridiculous than WND's compulsion to lie about Obama.
Posted by Terry K. at 12:05 AM EDT