Newsmax Defends Kerik One Last Time
Topic: Newsmax
Newsmax's Bernard Kerik rehabilitation program ended abruptly when Kerik pleaded guilty to eight counts, including tax fraud and lying to White House officials during his ill-fated 2004 nomination to be Homeland Security secretary. Now that Kerik has been sentenced to four years in prison on those counts, Newsmax is giving Kerik a fond, if low-key, farewell.
Newsmax ran a Feb. 18 wire story on Kerik's sentencing, but it did something else on Feb. 19. It put a specially colored link in its "Inside Story" section to a Huffington Post blog post defending Kerik: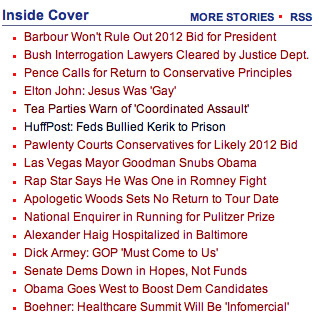 The lengthy post, by Andrew Kreig, repeats some of Newsmax's previous defenses of Kerik in claiming that he is a victim of overzealous prosecution. Kreig even cites Newsmax as a source of "positive coverage long after his state plea," and links to an item on Kerik and Newsmax we wrote for Media Matters as an example of how "some on the left have been eager to scorn the defense and its supporters, such as Newsmax."
Posted by Terry K. at 11:15 AM EST