CNS Managing Editor Pushes More Anti-Gay Hate
Topic: CNSNews.com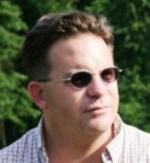 CNSNews.com managing editor Michael W. Chapman just loves to write blog posts spewing hatred at gays for, well, existing. Well, he's at it again.
In a May 26 post, Chapman regurgitates right-wing minister Franklin Graham's rant attacking the New England Patriots for sponsoring a team in the "Gay Bowl" flag football tournament. Chapman then adds, without attribution or proof: "The clear agenda of the Gay Bowl is to promote homosexuality, lesbianism, and transgenderism and endorse the gay way of life. Through flag football, sports, this agenda is easily targeted to children and families."
The same day, Chapman wrote another post touting how "strong majorities of male adults, weekly church goers, conservatives, and Republicans" think no new laws to protect the LGBT community are needed.Chapman then served up his own biased definitions of transgender-related terms:
Birth gender refers to the biological, anatomical sex of a person at birth, male or female. Gender identity refers to the gender a person chooses to follow regardless of biology and genetics. A transgender is a person who believes they are the opposite sex of their biology, e.g., Bruce "Caitlyn" Jenner, a biological male who thinks he is a woman and has had breast implants, hormone treatments, and had his genitalia surgically altered to look like a vagina.
Chapman doesn't explain why he's so obsessed with Jenner's genitalia.
On June 1, Chapman published a post dutifully highlighting the anti-gay rantings of tennis legend Margaret Court, who complained that "tennis is full of lesbians" and that gays are "after our young ones" and "behind that bullying program in schools." After noting "gay critics" of Court like Billie Jean King and Martina Navratilova," Chapman parenthetically added: "Court beat Billie Jean King in four Grand Slam finals, and beat Martina Navratilova in two other matches."
This sort of stuff makes Chapman the face of the gay-hating right at the Media Research Center (not to mention a lead example of why CNS has no credibility as a news organization). Apparently, he's quite cool with that.
Posted by Terry K. at 9:30 PM EDT