CNS Adds Bias To More AP Headlines
Topic: CNSNews.com
It's been a while since we caught CNSNews.com adding bias to one of the Associated Press articles it publishes, but CNS seems to have rediscovered its love of slanting editorial copy.
A Jan. 24 Associated Press article on groups asking President Obama to sign an executive order banning federal contractors from discriminating against gay employees carries the headline "Gay rights groups seek order on employee bias."

Run that story through CNS' bias machine, and the headline
magically turns
into "Homosexual Advocacy Groups Seek Executive Order Banning Discrimination in Workplace."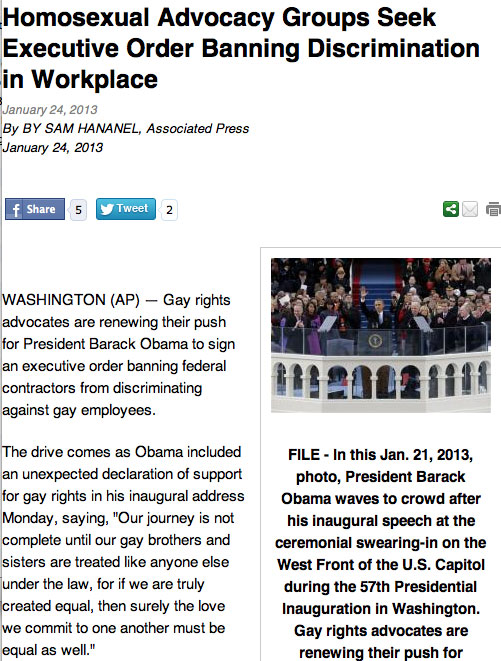 Why did CNS change "gay rights" to "homosexual advocacy" in the headline when they didn't bother to do so in the article itself? Who knows? Could be laziness, could be that AP doesn't allow those kind of edits.
Meanwhile, a Jan. 25 AP article was sent out with the headline "Schools Must Provide Sports for Disabled, US Says."

But the CNS headline on the same article editorializes: "Shades of Title IX: Schools Must Provide Sports for Disabled, Obama Administration Says."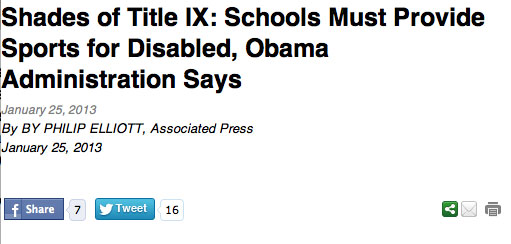 Whatever the reason for all this extracurricular editing, CNS is clearly unhappy that AP's articles aren't biased enough. That CNS is using AP articles at all remains strange since its corporate parent, the Media Research Center, regularly bashes the AP and even has a NewsBusters blogger, Tom Blumer, has sniffing out purported bias at the AP and other wire services as his main beat.
Posted by Terry K. at 6:54 PM EST
Updated: Friday, January 25, 2013 6:57 PM EST