WND's Zumwalt Is Still Ranting About Election Fraud
Topic: WorldNetDaily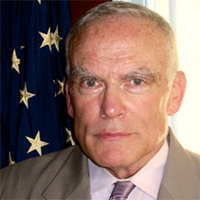 WorldNetDaily columnist James Zumwalt is still writing about election fraud conspiracy theories -- something you'd think WND would let him do given that the last time he did it, he allegedly committed libel against a employee of election-tech company Dominion, who has sued other right-wing outlets on defamation charges for doing the same thing. (Zumwalt's potentially libelous column strangely remains live and uncorrected despite it opening WND to legal jeopardy; which appears real given that the Dominion employee recently beefed up his lawsuit with new claims.)
But Zumwalt remains either undaunted or oblivious, clinging to his bogus conspiracy theories. In his Feb. 17 WND column, he starts by complaining about former President Trump's impeachment trial, then dove right in to ranting about "massive election fraud":
Unsurprisingly, every Democratic senator voted to convict; surprisingly, they were joined by seven Republican senators, apparently drunk on anti-Trump kool-aid. But, the entire impeachment exercise was, and always has been, overshadowed by an issue yet to receive its due in the form of a congressional investigation: Did massive voter fraud occur during the 2020 presidential election?

When allegations swirled after Trump's 2016 election victory that he had colluded with Russia, Democrats believed the claim true and were ready to impeach him, ultimately insisting on an investigation. Years and millions of dollars later, despite a line-up of pro-Hillary Clinton investigators, the investigation proved the claim false. More recently, Democrats clamor for an investigation into the Jan. 6 Capitol building riot as they believe Trump was responsible for inciting the attack. In light of Trump's acquittal, they probably will get one.

Yet, despite nearly half of all voters believing massive voter fraud occurred in the Nov. 3, 2020, presidential election, no effort has been undertaken to investigate the matter. Instead, we are falsely told by a liberal media no basis exists to support such a claim. But evidence offered by independent experts refutes this media narrative. If voter trust in the election process is to be restored, a fair and independent investigation is needed.

As the article of impeachment had accused Trump of making "false claims" of voter fraud, one had hoped the issue might be raised during the Senate impeachment trial. That hope came close to reality after the Senate voted to call witnesses. However, once Democrats learned Trump's defense counsel intended to call Speaker Nancy Pelosi as a witness, Democrats reversed< their decision so she would not be put on the hot seat about security related matters for which she was responsible. Thus, no witnesses were called, leaving the fraud issue unresolved.

The disinterest in an investigation leaves American voters wondering whether Trump Derangement Syndrome (TDS) has so affected Congress that it has opted to take an ostrich-like approach to the voter fraud issue, burying its collective head in the sand.
Zumwalt also weirdly pushed the idea that Trump should have "issued himself and his family members preemptive pardons" because he "could have spared himself a lot of his current legal misery."
Zumwalt rehashed his conspiracy theories in a March 17 column ranting against an election reform bill:
The 2020 election triggered numerous lawsuits and claims of voting fraud. Since all the cases to date have been dismissed, Democrats see no evil, despite the fact no case has yet been heard on the fraud evidence but were decided on procedural grounds.

The 2020 presidential election, due to the numerous substantive discrepancies Democratic leaders ignore, has shaken voter confidence to the core (39%) – not only among Republicans but Democrats as well. This should cause responsible legislators to investigate what happened in order to fix and re-instill voter confidence in the system.

With Democratic majorities in the House and Senate and their party holding the Oval Office as well, it would be fairly easy to launch such an effort. But this will not happen as evidenced by the course of action Democrats have embarked upon in the form of H.R. 1. In a nutshell, what this bill does is, among other things, memorialize the chaos that brought Democrats victory in 2020, reflected by the strict party-line vote the bill received in the House. Unbelievably, it is all being done without fully understanding what may have gone wrong in 2020.
If voter confidence is shaken to the core, as Zumwalt insists it is, that's due in no small part to people like Zumwalt who continue to spread bogus conspiracy theories about election fraud.
Posted by Terry K. at 1:10 PM EDT