A Muslim Wins An Election, And WND Freaks Out
Topic: WorldNetDaily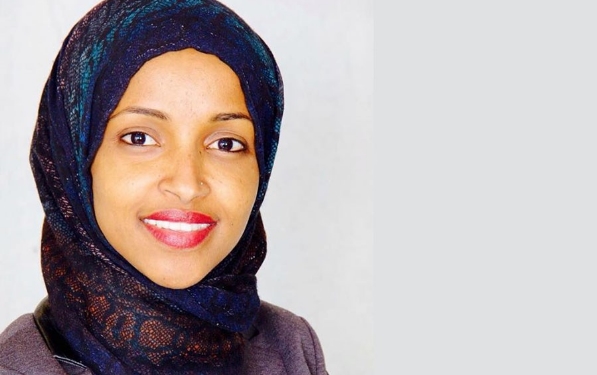 The victory of Ilhan Omar in a Minnesota state legislative primary, in a Democratic stronghold that virtually seals her victory in November, got a sloppy, biased, fearmongering treatment from WorldNetDaily.
Let the fearmongering and Muslim-bashing begin, WND reporter Leo Hohmann:
The state that has imported the most Somali Muslims over the past 25 years has reached a historic milestone that may be a harbinger of things to come.

In Tuesday's Democratic primary for the Minnesota House of Representatives, Ilhan Omar, a hijab-wearing Somali woman, defeated 44-year incumbent Phyllis Kahn and will likely become the first female Muslim legislator in U.S. history in November. The district is made up mostly of college students and immigrants, offering zero chance for her Republican challenger in November.

[...]

Omar is the current president of the state Democratic Party's Feminist Caucus, which would seem to fly in the face of the beliefs of a practicing Muslim. Islam teaches the submission of women under men, and wearing the hijab is but one symbol of that submission. Women are counted as "half" of a man under Shariah law for purposes of inheritance.
Oooh, "harbinger"!
In fact, according to the Minneapolis Star Tribune, "Omar built a vast coalition of support beyond East African citizens and tried to connect with many new voters, winning a three-way battle in what emerged as the most wild and unpredictable legislative primary in the state," which means it wasn't just "college students and immigrants" as Hohmann claims.
While Hohmann includes a couple of quotes from Omar he gleaned from other sites -- he couldn't be bothered to actually talk to her in person for his story -- his article is mostly packed with the rantings of anti-Muslim activists and his own anti-Muslim attacks:
But some Minnesota Republicans were not so giddy, especially those who have warned for years that the build-up of Somali enclaves would eventually lead to their political empowerment, which represents a whole new phase of what they believe is a campaign of cultural jihad.

Cultural jihad, also called civilization jihad in Muslim Brotherhood documents, uses America's liberal immigration laws to infiltrate and take over through peaceful means, a strategy that's spelled out in the "An Explanatory Memorandum on the General Strategic Goal for the Group in North America." This seized document was entered by the FBI as evidence against the Holy Land Foundation during the largest terror-financing trial ever held on U.S. soil in 2007.

"The Democratic Party rejects the idea of civilization jihad as advanced by the Muslim Brotherhood," said former Congresswoman Michele Bachmann of Minnesota. "Who's laughing now?"
Hohmann gave free rein to anti-Muslim right-wingers like Debra Anderson to spew their hate: "Their extensive co-opting of American ideas and words overwhelm me. I don't know where to even begin to counter their lies." Hohmann permits nobody to respond to the anti-Muslim hate he pushes.
And Hohmann's article is so poorly edited that Phyllis Kahn's last name is misspelled several times in the article and in captions as "Khan."
Is it any surprise that WND lacks credibility?
Posted by Terry K. at 4:14 PM EDT