MRC's Jean-Pierre-Bashing, Doocy-Fluffing Watch
Topic: Media Research Center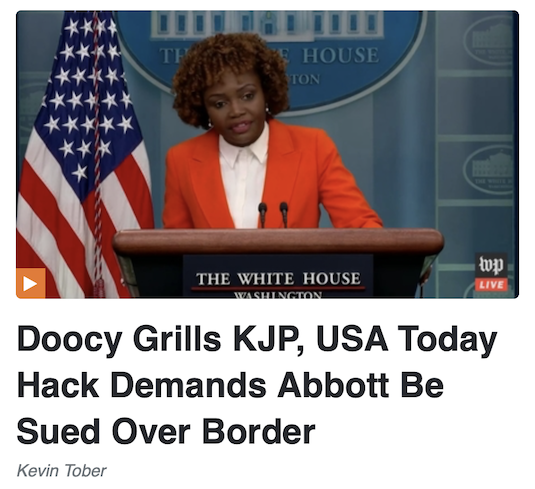 Kevin Tober got his usual malicious shots in at Karine Jean-Pierre in his writeup of the March 22 White House press briefing:
Once again, the first half of Wednesday's White House press briefing featured National Security Council Coordinator for Strategic Communications John Kirby to serve as a crutch for incompetent White House Press Secretary Karine Jean-Pierre. Yet even during what WMAL radio talk show host Vince Coglianese referred to as "the grownup press briefing" there was at least one noteworthy moment.

This came from Fox Business correspondent Grady Trimble who pointed out how the Biden administration seems to be talking out of both sides of its mouth when it comes to the dangers of the Chinese spyware app TikTok.

[...]

Once Kirby was gone and the children's version of the briefing began with the inept Jean-Pierre, things got more interesting.

First up was the Associated Press's Aamer Madhani who wanted Jean-Pierre to weigh in once again on Florida Republican Ron DeSantis's anti-grooming legislation.
Funny, we thought the MRC hated it when the media didn't call the Florida law by its official name. Tober went on to whine about "the most pathetic moment of the entire briefing, when USA Today reporter Rebecca Morin (who has pronouns in her Twitter bio) tattled on Texas Governor Greg Abbott and basically begged the Justice Department to sue him for daring to secure his state's border." Tober didn't explain what relevance declaring one's pronouns has to, well, anything. He then moved on to the Fox News PR segment of his post for the MRC favorite biased reporter and mancrush:
Then came the moment everyone was waiting for: "Doocy Time" (as NewsBusters' Curtis Houck has coined).

Fox News White House correspondent Peter Doocy didn't waste time. He asked the most important question of the day which was regarding the Biden crime family's mounting scandals: "House Oversight says they've got bank records showing a Chinese energy company paying three Biden family members through a third party. What were they paid for?"

Jean-Pierre played dumb and demurred, "I don't even where to begin to even answer that question because, again, it's been lies and lies and inaccuracy for the past couple years."

Doocy moved on and asked about the deteriorating relationship between the United States and China: "Xi told Putin at their meeting, 'Change is coming that hasn't happened in 100 years. And we are driving this change together.' What do you think that means?"
Again, Jean-Pierre had no answer. "You would have to ask them," she replied.
Houck returned to write up the March 27 briefing to whine that reporters at the briefing talked about the gun massacre in Nashville earlier that day:
Monday's White House press briefing came after initial reports on the deadly shooting at Covenant School in Nashville, Tennessee that left six people (three students, three adults) dead and thus gave reporters to flaunt their liberal views.

Most notably, NBC's Kelly O'Donnell channeled Rahm Emanuel by ghoulishly speculating the reports of the shooter being a woman could represent a "breakthrough" against those backward Americans stuck in their "gun culture."
Houck was so focused on defending guns that he forgot to insult Jean-Pierre.
UPDATE: Houck also whined in a separate article about the March 27 briefing that reporters asked about the gun massacre at a private school in Nashville that day, complaining that reporters "flaunt[ed] their liberal views" by asking about gun regulations and whether the fact that the shooter was a woman might change things: "Jean-Pierre declined to comment on the gender because she wanted to remain 'mindful' despite having seen 'those reportings [sic].' On guns, she said Biden would 'continue to take action to reduce gun violence because this is a priority for him and he wants to save lives' and hoped Congress would 'enact common gun law reforms'."
Posted by Terry K. at 9:44 PM EDT
Updated: Monday, April 24, 2023 7:57 PM EDT