MRC Can't Stop Hating Dwyane Wade For Having A Transgender Child
Topic: Media Research Center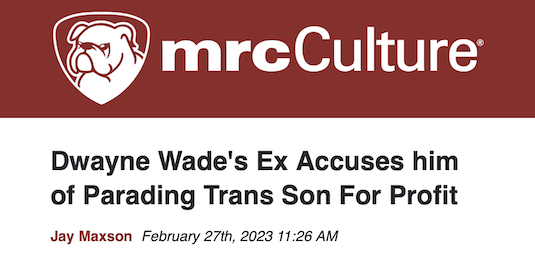 The Media Research Center's sports bloggers have long hated NBA legend Dwyane Wade for refusing to hate his transgender child. Jay Maxson pushed that hate again with an assist from his ex-wife in a Feb. 27 post:
You'd never know it from watching Saturday's NAACP Image Awards, but not everybody approves of ex-NBA player Dwyane Wade exploiting his transgender son. and current wife Gabrielle Union-Wade received the NAACP's Presidents Award and took the opportunity to soak in the adoration of the alphabet mob. But Wade's former wife accused him of grandstanding in hopes of gaining a financial windfall.

Zion Malachi Airamis Wade is a biological male, who on Friday legally changed his name to Zaya. Since 2020, he has presented himself as a girl – against the wishes of his birth mother, now divorced from the father.

The former Miami Heat star, the ever-woke Wade, melted into mush as he explained to the NAACP awards audience that it is his duty to kneel to the wishes of his confused 15-year-old male child.:

[...]

Siohvaughn Funches-Wade filed a lawsuit alleging that her ex-husband is hyping the child's gender confusion to profit from his advocacy, at the expense of his son. There is a lot of money to be made from his endorsements of the alphabet lifestyle, the ex-wife charged. D-Wade "is positioned to profit from the minor child's name and gender change with various companies through contacts and marketing opportunities including, but not limited to deals with Disney.

"I have concerns that [Wade] may be pressuring our child to move forward with the name and gender change in order to capitalize on the financial opportunities that he has received from companies," Funches-Wade said. Additionally, D-Wade admitted to his former wife that he expects to make a bundle of money over the son's gender confusion.

"[Wade] told me that he intended to make our child very famous due to the name and gender issue and also informed me that there would be endorsements/contracts associated therewith," Funches-Wade commented.
Maxson noted only that "Wade denied the allegations, even though he's turned public appearances with alphabet mob members, like Ellen DeGeneres and awards programs, into a cottage industry." In fact, he has said much more about the situation, which Maxson apparently doesn't want you to know. By contrast, an actual news outlet reported in November, when the ex-wife started going public with her attacks:
Dwyane Wade is firing back after his ex-wife, Siohvaughn Funches-Wade, accused him of trying to exploit their transgender daughter, Zaya, by applying for a legal name and gender change for the teen.

The sports star took to his verified Instagram account after Funches-Wade filed an objection in a Los Angeles court in an attempt to block his petition filed in August to have the 15-year-old's birth name changed to Zaya and her gender to female.

"Since this must be the new way of parenting, I guess I have to address these allegations here, which is a damn shame," he wrote in a lengthy note posted on his Instagram.

[...]

In his post, Wade wrote that "No one in our house would ever force Zaya or any of our children to do anything against their will, much less force an identity on them."

"This isn't a game for my family and definitely not for Zaya," he wrote. "This is her life!"

[...]

In his social media post, Wade alleges that Funches-Wade is an absentee parent to Zaya, who was 12 years old in 2020 when she went public with being transgender.

"Siohvaughn has decided to pretty much be an absent parent to Zaya ALL ON HER OWN," he wrote. "I will not sit on my hands this time and allow her to make a mockery of my dedication to my family. The high road has run out of real estate."
Wade also responded in a court filing later that month, accusing the ex-wife of possibly trying to relitigate their divorce or carry out a "campaign of personal attacks":
But the documents filed Tuesday say Funches-Wade responded to an email alerting her to the petition by declining to discuss "'elective matters' until her relationship and bond with her child was 'completely healed and restored.'"

And the documents described her profit-seeking claims as "nonsensical" and "libelous at their core."

"Dwyane filed this Petition because Zaya asked him to," the documents say. "It is unclear if Siohvaughn's goal is to relitigate her divorce and custody dispute with Dwyane, or to resume her campaign of personal attacks against Dwyane, but it is clear that her objections have little, if anything, to do with Zaya's best interest."
Strange how Maxson doesn'tthink you need to know about any of this -- the ex-wife peddled right-wing narratives, and that's all that matters.
Maxson also ranted: "The alphabet movement has long attempted to compare their demands for special rights to those of black Americans seeking civil rights. It's a mixture of apples and oranges. Black people were born that way; homosexuals and transgenders were not." Maxson offered no evidence to back up his biological claim. And it's an odd claim to make for someone with a sexually ambiguous first name who provides so little personal information that it's unclear whether what sex Maxson even is. What is Maxson hiding?
Posted by Terry K. at 1:27 PM EDT
Updated: Thursday, April 13, 2023 11:58 PM EDT