MRC Mad People Said Nice Things About Biden's Visit To Ukraine
Topic: Media Research Center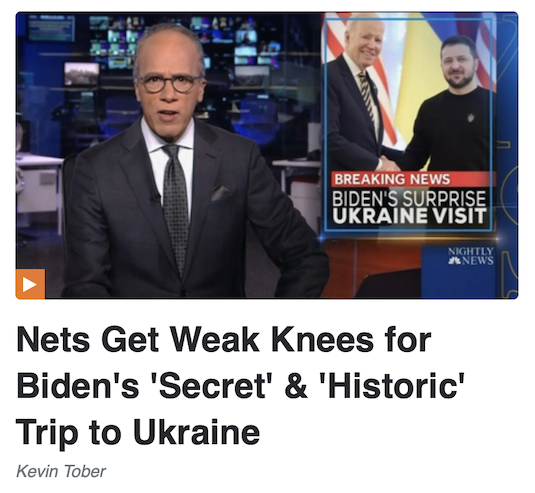 As it
regularly does
, the Media Research Center got mad again when people say nice things about something President Biden does -- in this case, paying a surprise visit to Ukraine. Kevin Tober was first up in a Feb. 20
post
, which also issued another
regular
complaint
that historic things are being called "historic" (and, of course, a dash of whataboutism):
On Monday night, the three evening network broadcasts went ga-ga over President Biden's "historic" trip to Ukraine. Each of the three networks (ABC's World News Tonight, CBS Evening News, & NBC Nightly News) got weak-kneed over the trip and made no snide comments or said anything at all negative about Biden or his Ukraine visit. This is in stark contrast to how they treated both former Presidents George W. Bush and Donald Trump when they visited the U.S. troops overseas.

ABC's World News Tonight anchor David Muir drooled at "President Biden's secret and historic trip into Ukraine, a daring act by a sitting president visiting a war zone. And one where no American troops are serving." Muir added that "the journey planned in secrecy and unannounced, playing out in the overnight hours, and it comes just as the world is set to witness the one-year anniversary of Russia's invasion of Ukraine."

Contrast this with how ABC's former Good Morning Americaco-host Charles Gibson framed Bush's 2003 Thanksgiving visit to the troops in Iraq:
Tober seems to have missed the fact that Biden was not visiting U.S. troops stationed abroad but, in fact, the war zone of an American ally that was being targeted by a hostile invader.
A couple hours later, Tober whined further about a "phony historian" who praised Biden but still knew more than Tober:
On Monday night, MSNBC's The ReidOut continued an all-day theme in the leftist media of swooning over President Biden's trip to Ukraine, which he took despite failing to pay a visit to his own citizens suffering in the working-class town of East Palestine, Ohio that had been poisoned by a toxic train derailment. Regardless, MSNBC's pseudo-historian Michael Beschloss wants you to believe Biden's trip to Ukraine was the bravest thing a president has done since Abraham Lincoln visited a Civil War battleground in 1864. Yes, the same Biden that took five deferments from serving in Vietnam was brave according to Beschloss.

When asked by host Joy Reid what he thought of Biden's Ukraine excursion, Beschloss pompously claimed "what Biden did today goes straight through two centuries of proud American history."

"To find a day of this kind of presidential bravery in a war zone, you got to go all the way back to 1864, July, when Abraham Lincoln as President went to see confederate soldiers were firing on Washington, D.C," Beschloss claimed.

[...]

The idiocy of Beschloss's comparisons should be self-evident. For those who don't grasp it, comparing a presidential visit in the year 2023 with all the modern-day Secret Service protection and other protective measures to Lincoln, Madison, and Washington's visits to battlegrounds where there was little to no security is like comparing apples and oranges.

The same Joe Biden who refused to fight for his country in Vietnam wasn't going to risk his life to visit a country engulfed in a war the United States has little to do with, other than giving billions in aid.
Funny, Tober didn't note that Trump also got five military deferments and refused to fight for his country in Vietnam when praising him for visiting the troops.
Mark Finkelstein joined the whine-fest the next day:
Morning Joe was all aboard the Sycophant Express today, turning the gush meter to 11 as it unleashed a string of superlatives to praise Biden's visit to Ukraine.

"Incredible, staggering, historic...absolutely stunning...extraordinary...incredibly moving."

Joe Scarborough twice put Biden's bravery in the same category as that of Lincoln visiting Union troops during the Civil War.

At one point, Scarborough emoted over Biden's "excruciating 10-hour train trip." You want an excruciating train trip, Joe? Try riding the NYC subway at rush hour, with the ever-present danger of being pushed onto the tracks by a maniac.
When Scarborough noted that even Fox News defended Biden's trip, Fibnkelstein returned in a Feb. 23 post to complain about that too:
Fox News is the network that Morning Joe loves to hate. Similar to the way the show will often refuse to even mention Donald Trump by name, referring to him only as "the former president," Morning Joe will often make a sneering reference to "certain networks," while obviously targeting Fox.

So it was what we could call a Sudden Respect moment when today's Morning Joe praised Fox News in general, and Brit Hume in particular, for their defense of President Biden's trip to Ukraine before making a possible visit to East Palestine, Ohio in the wake of the train derailment there.

Morning Joe played a clip of Bret Baier mentioning that it has not been historically common for Transportation Secretaries to visit the site of train derailments, especially when there are no fatalities. Baier pointed out that during the Trump administration, Transportation Secretary Elaine Chao didn't visit train-disaster sites, including ones involving loss of life, whereas there was no loss of life in East Palestine.

Morning Joe then played an extended clip of Hume opining that a president's key duty is to the security of the United States, and in that context, Biden's visit to Ukraine took precedence over a visit to East Palestine.

Scarborough and Willie Geist praised Hume's comments, with Scarborough saying that Hume had made a "very good point," and Geist saying that Hume understood the importance of Biden's visit to Ukraine and Eastern Europe since "he's been around for more than five minutes."
MRC employees are generally not allowed to criticize Fox News (lest it jeopardize their chances of getting on the channel), so Finkelstein didn't actually criticize Hume for deviating from the right-wing hate-Biden narrative.
Tim Graham devoted his Feb. 24 column to a full-on whine about historic (non-conservative) things being called historic (by non-conservatives):
One of the worst glorifications of journalism is to call it "the first rough draft of history." At least old Washington Post boss Philip Graham once blustered about "our inescapably impossible task of providing every week a first rough draft of history."

Some events are so catastrophic – think September 11 – that you know it's historic in real time. But most of history cannot be proclaimed within the day it occurs. The adjective "historic" is often used to boost leaders and themes in a way that sounds like advertising instead of journalism.

When Kevin McCarthy took over as Speaker of the House a few weeks back, that wasn't "historic." On PBS, Washington Week host Yamiche Alcindor spoke discouraging words about his "rocky, rocky week" with Republican "hardliners." But Hakeem Jeffries and the Democrats who lost the majority were boosted as the "new historic group leading the Democratic Party in the House."

When President Biden made a surprise trip to Kiev, MSNBC quickly put these words on screen: "Biden Makes Historic Trip to Ukraine." How on Earth do they know this is dramatic history in the making? Will this be seen as "historic" in two years? Russia's invasion of Ukraine is historic, but we don't know whether Biden's five hours in the capital are crucial.
Graham cobncluded by huffing: "This is why cable 'news' sounds more like hour after hour of partisan spin control rather than an objective recounting of facts. We have no idea when or whether Russia will admit defeat and withdraw from Ukraine, but we do know Biden will be painted as a heroic G.I. Joe well into 2024." You can be sure that Graham is not accusing Fox News of serving up "hour after hour of partisan spin control" in his indictment of "cable 'news'."
Posted by Terry K. at 10:31 PM EDT