WND Hypes Misleading Attack On Dominion, Censors Company's Response
Topic: WorldNetDaily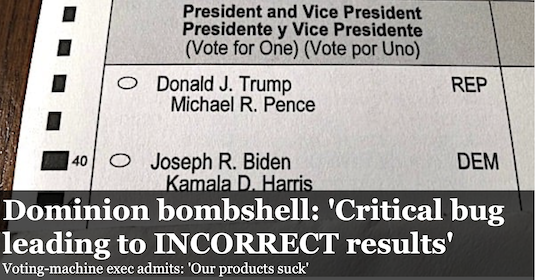 Bob Unruh tried to keep up the anti-voting-machine conspiracy theory in a Feb. 22 WorldNetDaily article:
Voting machines have played an inordinate role in headlines in the last few years, since the oddly anomalous results of the 2020 presidential election were revealed to give Joe Biden narrow victories in states that appeared to be majority Republican.

Naturally there were questions about the accuracy of the counts by those machines, especially after some clearly wrong results were admitted, and corrected.

ommentators made accusations about failures and one of the voting machine behemoths, Dominion Voting Systems, immediately went to court, suing them for defaming the company's reputation. Some defendants responded with their own lawsuits against Dominion.

And now, as a result of one of those legal actions by Dominion against Fox News, it's been revealed in a report by Just the News that one of Dominion's own executives knew the system had failed.

It was Dominion Director of Product Strategy and Security Eric Coomer who admitted in an email that his company's technology was marred by a "*critical* bug leading to INCORRECT results."

"It does not get much worse than that," he said.

The comments were revealed as a part of the discovery process in Dominion's lawsuit against Fox. Dominion is demanding $1.6 billion for "defamation."

His comments were made public in a legal brief filed by the news outlet.

Further, the details provide that in 2019, Coomer lamented that "our products suck."

He explained that "almost all" of the tech failings by Dominion were "due to our complete f--- up in installation."

The information was filed in a defense brief by Fox in the case.

Coomer's comments came in 2018, and later in 2019, the report said, when he added, "We don't address our weaknesses effectively."

In the days just before the 2020 vote – where suspicion landed on the accuracy of the voting machines – Coomer said, "Our sh-t is just riddled with bugs."

Further, the report explained, "Mark Beckstrand, a Dominion Sales Manager, testified in a deposition that 'other parties 'have gotten ahold of [Dominion's] equipment illicitly' in the past."

The defense arguments explain, "Beckstrand, identified specific instances in Georgia and North Carolina and testified that a Dominion machine was 'hacked' in Michigan" and "confirmed that these security failures were 'reported about in the news.'"
Unruh is just a stenographer who writes what he's told -- here, rewriting a biased story from Just the News -- and he cranks out what's politically expedient in the moment and will never do follow-up reporting if it blows up the original story. And that's what happened here. Dominion responded in a March 8 brief in support of its motion for summary judgment in its lawsuit against Fox News for spreading false information about the company after the 2020 election in a footnote that called out Fox News' mischaracterizations:
Other examples of Fox's mischaracterizations of the record abound, though none matter to this motion's resolution. For example, in the fact section of its answering brief, Fox quotes a portion of former Dominion employee Eric Coomer's text message as evidence that "He lamented that '[a]lmost all' of Dominion's technological failings were 'due to our complete f--- up in installation.'" FNN.Opp.p.17. But Coomer's text message actually said "Almostall of it was due to..." with the preceding text message referring to "Texas, unanimous denial." In other words, Coomer was attributing a single event—the denial of certification in Texas—to Dominion's "f--- up in installation" (i.e., problems with the installation for Dominion's demonstration of its equipment for Texas certification). Fox omitted the word "it" (referring to the Texas certification denial) and instead suggested, incorrectly, that Coomer was talking about "technical failings" at the company more broadly. See H3.

Fox also distorts Dominion witnesses' deposition testimony, for example, by stating that Mark Beckstrand testified that a voting machine was "hacked" in Michigan, even though Beckstrand defined a "hacking instance" as "an attempt at hacking or somebody gets ahold of our equipment illicitly." The immediately preceding and ensuing deposition transcript pages (which Fox failed to provide the Court) show that Beckstrand was talking about an aberrational event from 2022 in which a Michigan county lost custody of a Dominion voting machine, which ended up being turned over to Goodwill and sold on eBay. Beckstrand made clear in his testimony that the county losing custody of the machine had nothing to do with an issue with Dominion or its equipment, and with respect to the machine being on eBay, "nothing can happen to it, nobody can do anything with it."

In any event, Dominion internal documents and witness testimony about events are irrelevant to Fox employees' state of mind unless they knew about those documents or events at the time (and they did not).
Nah, Unruh will never tell his readers about this. He's too much of a hack.
Posted by Terry K. at 7:27 PM EDT